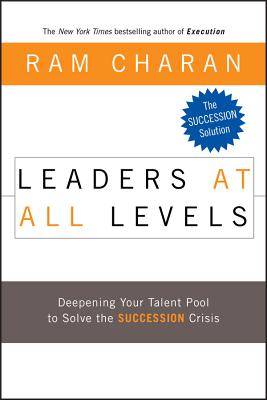 Leaders at All Levels (Hardcover)
Deepening Your Talent Pool to Solve the Succession Crisis (J-B Us Non-Franchise Leadership #22)
Jossey-Bass, 9780787985592, 172pp.
Publication Date: December 1, 2007
* Individual store prices may vary.
Description
Learn how top companies solve the problem of leadership successionfrom corporate America's leading consultant.
A serious crisis looms in American management today. More andmore CEOs are failing; there remains an acute shortage of capablereplacements. The true dilemma in leadership is the stagnant stateof corporate leadership development. Because companies fail to honetheir unit managers' leadership abilities, they are never able tofill their succession pipelines. With unit managers stagnating, companies have difficulty executing at every level, compounding thecrisis. In I>Leaders at All Levels, bestselling author RamCharan shows how top companies approach leadership development as acore competency, recognizing that an adaptable leadership pool is acompetitive advantage, and focusing their attention on bringing outthe best in the leaders they have.
Charan reveals exactly what's wrong with corporate leadershipdevelopment and tells how to make it right. He explains the conceptof a leadership "gene pool" and shows how companies can discoverjust what "DNA" they need to succeed. He also details how touncover the hidden leaders in a company, when and where to bring infresh talent, how to coach, measure, and reward leadership, andmuch more. For CEOs, directors, and anyone involved in leadershipdevelopment, Leaders at All Levels is an eye-opening guideon how to get succession right.
About the Author
The AuthorRam Charan is a world-renowned advisor to business leaders andcorporate boards, a bestselling author, and an award-winningteacher. He is the author or coauthor of fourteen books includingKnow-How, What the CEO Wants You to Know, Boards that Deliver, andthe New York Times best-seller Execution.
or
Not Currently Available for Direct Purchase