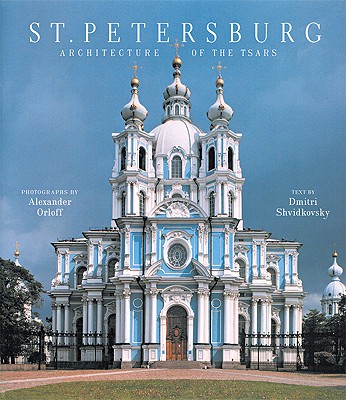 St. Petersburg (Hardcover)
Architecture of the Tsars
Abbeville Press, 9780789202178, 360pp.
Publication Date: October 30, 1996
* Individual store prices may vary.
Description
Before becoming a city, St. Petersburg was a utopian vision in the mind of its founder, Peter the Great. Conceived by him as Russia's "window to the West," it evolved into a remarkably harmonious assemblage of baroque, rococo, neoclassical, and art nouveau buildings that reflect his taste and that of his successors, including Anna I, Elizabeth I, Catherine the Great, and Paul I. Crisscrossed by rivers and canals, this "Venice of the North," as Goethe dubbed it, is of unique beauty. Never before has that beauty been captured as eloquently as on the pages of this sumptuous volume. From the stately mansions lining the fabled Nevsky Prospekt to the magnificent palaces of the tsars on the outskirts of the city, including Peterhof, Tsarskoe Selo, Oranienbaum, Gatchina, and Pavlovsk, photographer Alexander Orloff's portrait of St. Petersburg does full justice to the vision of its founder and namesake. The text, by art historian Dmitri Shvidkovsky, chronicles the history of the city's planning and construction from Peter the Great's time to the reign of the last tsar, Nicholas II. Anyone who has ever visited--or dreamed of visiting--the city of "white nights" will find St. Petersburg irresistible.

About the Author
Alexander Orloffs work has appeared in Vogue, Newsweek, The New York Times, Geo, Natural History, Stern, and many other periodicals. He is the author of several books, including Carnival: Myth and Cult and Russian Ballet on Tour, and his photographic study of North Africa's Maghrebian architectural heritage for UNESCO was awarded the Kodak Photographic Critics Prize. Dmitri Shvidkovsky is a member of the Academy of Fine Arts of the Russian Federation and director of the Department of the History of Architecture at the Architecture Institute in Moscow. His articles have appeared in Russian, French, English, and Chinese journals. His books include Tsarskoe Selo: City and Gardens of the Era of Enlightenment in Russia (1990) and Artistic Problems in Russian Architecture (1991).
or
Not Currently Available for Direct Purchase