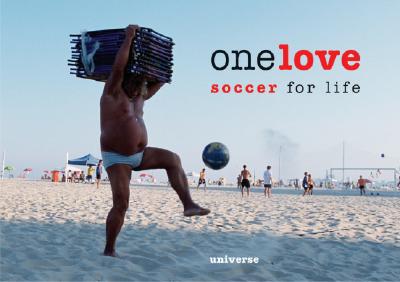 One Love: Soccer for Life (Hardcover)
Soccer for Life
Universe, 9780789315106, 384pp.
Publication Date: June 13, 2006
* Individual store prices may vary.
or
Not Currently Available for Direct Purchase
Description
From the playgrounds of Ireland to the streets of Colombia, and from the desert villages of Africa to the greatest arenas of the United States, soccer is a sport that transcends the barriers of age, language, gender, and background. Respected British sports photographer Levon Biss has traveled the world taking pictures that speak profoundly of people enjoying the immediacy, the emotion, and the fun of the beautiful game. From arresting scenes of jubilant fans scaling walls to celebrate with their idols to evocative images of children playing in quiet back streets, One Love captures the intensity of feeling inspired by soccer at every level. Packed with stunning, moving, and amusing photographs, as well as inspiring quotes from international soccer heroes, One Love is a charming testament to the enduring popularity of soccer around the world. Biss's photography brings together the young and old, amateurs and professionals, backyards and stadiums, reflecting the diversity of soccer's devotees and the common love of the game that unites them. Published with the support of renowned soccer brand Umbro, One Love is the perfect gift for soccer lovers everywhere looking forward to the 2006 World Cup.
About the Author
Levon Biss is one of the UK's most promising young photographers. His work has been exhibited in numerous galleries, including the Royal Academy of Art, and he has photographed sports all over the world. He lives in London. Steve Rushin is one of America's most highly acclaimed sports journalists, and has been Senior Writer for "Sports Illustrated" for fifteen years.
Advertisement