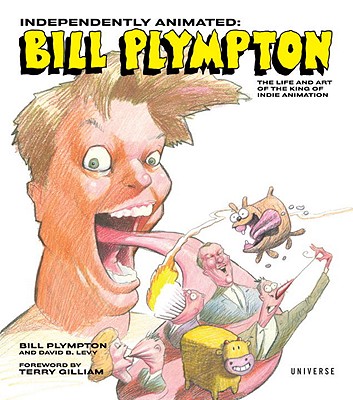 Independently Animated (Hardcover)
Bill Plympton: The Life and Art of the King of Indie Animation
Universe, 9780789322098, 264pp.
Publication Date: March 22, 2011
* Individual store prices may vary.
Description
The life and art of "the King of Indie Animation." The only modern animator to personally hand-draw every frame in all of his work, Academy Award–nominee Bill Plympton eschewed a career in the high-paying but soul-crushing Hollywood animation industry to explore his own creativity as an independent filmmaker. Called "mischievous, mordant, analytical, and ceaselessly imaginative" by the New York Times, and hailed simply as "God" by Simpsons creator Matt Groening, Plympton is widely regarded as the hardest-working, most prolific animator in the business. His instantly recognizable and unique style catapulted him into the pop culture stratosphere and cemented his place in the pantheon of animation greats. In Independently Animated, the winner of countless animation and filmmaking awards juxtaposes the story of his life and art against the backdrop of the overall animation industry. It chronicles Plympton's life from his childhood of Saturday morning cartoons to his most current and certainly adult-skewing animation. The book contains hundreds of pieces of art from his films, as well as never-before-seen drawings, doodles, production notes, and a full filmography.
About the Author
Bill Plympton's cartoons have been published in the New York Times, Vogue, Rolling Stone, and Vanity Fair. His films are seen and heralded around the world. David B. Levy is an award-winning animation director, author, and animation industry expert. Terry Gilliam is an award-winning director, animator, and author best known as a member of Monty Python and for the films Brazil, Fear and Loathing in Las Vegas, Time Bandits, The Brothers Grimm, and The Imaginarium of Doctor Parnassus.
Praise For Independently Animated: Bill Plympton: The Life and Art of the King of Indie Animation…
"No one ever needs an excuse to seek out animator Bill Plympton -- the urge to laugh until stuff comes spewing out the nostrils is reason enough -- but now there's a big gorgeous book full of Plympton's weird, hilarious, haunting work." ~The Maddow Blog

"Independently Animated: Bill Plympton, The Life and Art of the King of Indie Animation juxtaposes the story of Academy Award-nominee Plympton's life and art against the background of the animation industry." ~Publishers Weekly

"...reads like a meandering journey into the mind of a slightly demented and always devious social agitator who wielded his colored pencils to entertain fans and influence artists around the world." ~Coolhunting.com

"Mention indie animation and Bill Plympton's name is the first to pop to mind. Since the mid-1980s, the New York-based animator has entertained audiences with his unique and quirky take on human (and canine) foibles, without having to conform to any particular formula, genre or studio mentality." ~Animation Magazine

"The lavishly illustrated new book Independently Animated: The Life and Art of the King of Indie Animation, by Bill Plympton and David Levy, is part biography, part retrospective, and part behind-the-scenes look at Bill Plympton's life and career." ~flavorpill.com

"This is definitely a retrospective book that everyone should pick up." ~Juxtapoz
or
Not Currently Available for Direct Purchase