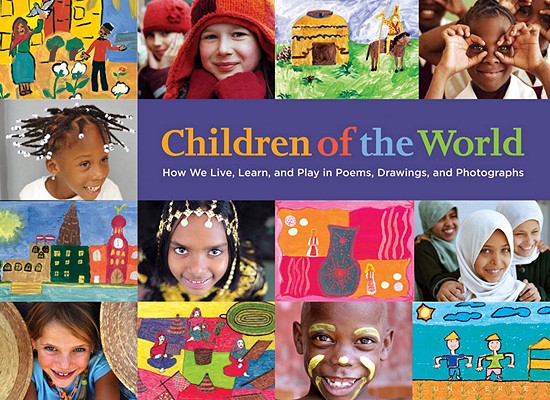 Children of the World
How We Live, Learn, and Play in Poems, Drawings, and Photographs
Hardcover

* Individual store prices may vary.
Description
Children from 192 countries around the world tell us about their homelands in words
and pictures.   Children of the World celebrates and teaches through photographs, fun facts, maps, artwork, and poems created by children around the world. With this book, families learn a little of the geography, traditions, and peoples of 192 countries around the globe--including our cultural similarities and differences--ultimately discovering that children everywhere draw, smile, play, and rejoice in their different backgrounds and in their universal friendship. On every page, the lives of children in a different country come to life.
More than 18,000 children in more than 300 schools participated in a U.N.-sponsored school visitation program between 2005 and 2009, and each was asked what it means to be a child in his or her own country. Selections from their answers in firsthand reflections--poems, drawings, and paintings--as well as photographic portraits allow families a glimpse into vastly diverse cultures and a chance to have a virtually global group of friends.
The proceeds from this book will contribute to implementing U.N. and Art in All of Us programs in classrooms around the world.
Praise For Children of the World: How We Live, Learn, and Play in Poems, Drawings, and Photographs…
"Children of the World is a delightful anthology of children's art and poetry from around the world. The premise of the book is that there is art in all of us. The authors more than prove their point. In the Introduction the authors' stories about their adventures while gathering information leads the reader to expect what they get: multicultural excitement.
The book has a charm all its own, blending the original works of art with the photographs. The most significant message readers take away is that despite the many cultural differences that exist around the world, children are more alike than different. In sharing this book children can relate to children who live, love, laugh, and play just as they do. This valuable message of sameness within difference sends a strong message of multicultural richness and the beauty of diversity. Children of the World provides a wonderful springboard to introduce a multicultural unit as well as a rich resource of information to be read again and again." ~National Art Education Association

"This captivating volume, ambitious in scope and remarkable in execution, combines striking candid photographs of children from 192 nations with poems and artwork from children in each nation. Organized by country, the volume also includes details about language, diet, and local activities. "Bosnia my homeland, My pride, my peace," writes a 10-year-old, while a child from the Philippines declares, "What I want to achieve/ Is a country full of peace." Asael and Rabemiafara deliver a powerful kaleidoscope of young voices, diverse yet united." ~Publishers Weekly

"Top Picks: Children of the World is an endearing new book that features a drawing and poem by a child from each of the United Nations' 192 member states, as well as a photo of the children and fun facts about their country. The differences across the world are entertaining, but not as striking as the similarities. It's a book that will make you smile." ~The Christian Science Monitor

"Children of the World [is] a bright, enticing book that belongs in every school or public library. In living color and with a multitude of young voices, Children of the World testifies to the power of art in making our lives meaningful, in both personal and public ways. Educators looking for opportunities to increase awareness and appreciation of diverse cultures should reach for this well-crafted book to enhance a variety of social studies, geography, art, and literature units." ~New York Journal of Books

"Children of the World is a superlative book that has the potential to provoke curiosity and a deepened awareness of our shared humanity, among children everywhere. As a powerful learning tool and as a book that exudes sheer joy, it begs to be shared at home, and it should certainly have a prominent place in every school library." ~Marjorie Coughlan, PaperTigers.org

"Travel for Kids book pick of the month: What a fabulous treasure trove, the world through the eyes of children!" ~Globetracks: Travel for Kids

Universe, 9780789322678, 416pp.
Publication Date: September 13, 2011
About the Author
Anthony Asael and Stephanie Rabemiafara are the founders, photographers, and directors of Art in All of Us (AiA). They have strong economic and managerial backgrounds, and have both worked as foreign trade professionals. In 2004, Anthony and Stephanie decided they could do more by committing their lives to the vision and mission of AiA, and thus began their long journey in building the organization.

Ann M. Veneman served as the Executive Director of the United Nations Children's Fund (UNICEF) from 2005-2010.

Art in All of Us is a not-for-profit organization based in Brussels, Belgium, and New York City (501(c)(3)). AiA promotes tolerance and cultural exchange through art and creative activities in all 192 UN member countries. AiA endeavors to enrich the lives of children by inspiring them to create a portal through which they can look at each other's lives in a cross-cultural context.
or
Not Currently Available for Direct Purchase