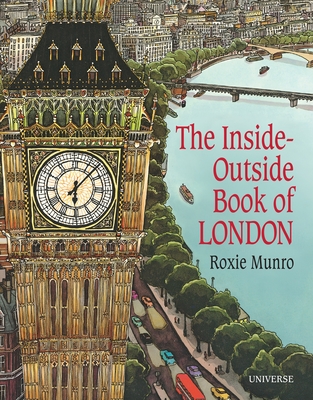 The Inside-Outside Book of London (Hardcover)
Universe, 9780789329134, 40pp.
Publication Date: March 24, 2015
* Individual store prices may vary.
Description
Seen from outside and then inside, London's sights reveal the majesty that makes this city so intensely historic and uniquely civilized. Awakening all of the senses with her sweeping perspectives, vivid colors, and abundant details, artist Roxie Munro whisks readers to London—and what a feast for the eye that great city proves to be! Munro balances her playful sense of fun with taking the reader to the highlights of one of the world's great capitals. Some of the big tourist spots are pictured—Buckingham Palace, St. Paul's Cathedral, the Houses of Parliament—but her inclusion of smaller venues, such as a New Oxford Street scene in the rain, is inspired, giving readers the daily flavor of London life. From riding atop a double-decker bus down Regent Street to watching the Queen's Royal Procession, The Inside-Outside Book of London is a taste of all things London for children and tourists of all ages.
About the Author
Roxie Munro is a fine artist and an award-winning author-illustrator of more than 35 books for children, including her acclaimed Inside-Outside series. Fourteen of her paintings have been published as covers of The New Yorker magazine.
Praise For The Inside-Outside Book of London…
"The Inside-Outside Book of London can fairly stake a claim on a child's attention even if he has visited England only in his imagination. In these sumptuous pages, New Yorker illustrator Roxie Munro combines clear lines and jewel-like colors to present a great city's landmarks in idealized form—no scruffy news agents or kebab shops here. Rather, we are invited, mostly wordlessly, to take in the Greek Revival splendor of the British Museum, ride a double-decker bus along Regent Street, glimpse the queen passing in a gilded carriage, visit the magnificent houses of Parliament, and get a witty and surprising change of perspective at the Tower of London. A final page in small print relates factual details to supplement the drawings, which include a view from inside a British Rail train that will be familiar to anyone who has ever trundled through the London suburbs." -The Wall Street Journal

"Whether you're an Anglophile hankering for a taste of London with its abundance of amazing architecture, or someone eager to simply see this capital city's highlights from the comfort of your couch, this picture book is for you. Share the sights of the former Londinium with your kids. They'll be impressed with its rich history found in every corner of town." -Good Reads with Ronna

"This is a wonderful book to introduce your child to London! . . . From riding atop a double-decker bus down Regent street to watching the Queen's Royal Procession, The Inside-Outside Book of London is sure to be a treasured volume for children and travelers of all ages." 
-WHAT'S UP FOR KIDS NEWSLETTER
or
Not Currently Available for Direct Purchase