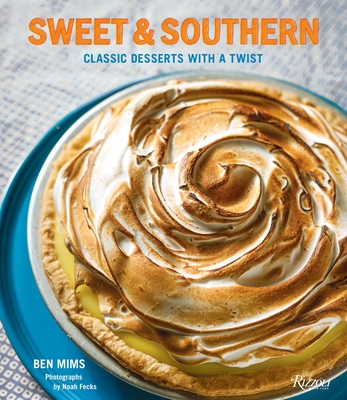 Sweet & Southern
Classic Desserts with a Twist
Hardcover

* Individual store prices may vary.
Other Editions of This Title:
Hardcover (9/23/2014)
Description
A fresh new voice in food writing reinvigorates decadent Southern desserts with a fun, modern edge. With the assured authority of an experienced baker and the easy wit of a natural storyteller, Ben Mims guides readers through the techniques and traditions of classic Southern desserts. Time-wasting fussiness and artificial ingredients are reconsidered in favor of practical, modern updates, fresh flavors, and global influences. This book features picture-perfect favorites such as Hummingbird Cake, Lemon Layer Cake, Peach Cobbler, Peanut Butter Pie, Triple Cherry Pie, and Buttered Pecan Ice Cream. Homemade staples such as upside-down cake, red velvet cake, key lime pie, cornbread pudding, and snickerdoodles are elevated with simple and inspired twists. Mims also offers original recipes that daringly mix Southern traditions with international influences, such as an Indonesian-inspired Cinnamon-Chocolate Spekkuk and a Sicilian cassata with Southern flavors. Mixing reminiscences and reflections with an expert baker's tips and tricks, Sweet & Southern feels like an afternoon spent baking and gossiping with a friend. Precision is demonstrated through step-by-step photos and confident instruction, but the reader is also encouraged to experiment with different flavors, combinations, and preparations, empowering intrepid desert lovers to interpret and create new favorites.
Praise For Sweet & Southern: Classic Desserts with a Twist…
"…Sweet & Southern was pure, unexpected bliss. I wanted to make practically every one of Mr. Mims's original, modern and often whimsical takes on classic Southern desserts, but had to stop myself (for now) after three. Creative notions abound…My favorite was a layered chocolate flan and cake hybrid — creamy, luscious and completely unlike anything I'd made before." –The New York Times 

"Each recipe is presented with an eye for technique and a borderline-obsessive attention to detail - a mark of his pastry chef background - plus plenty of his irresistible Mississippi charm." –Saveur

"Sweet & Southern is a paean to the rich—sometimes all-too-rich—delights of Southern desserts…he treats us to scores of Dixie classics, he brings a light, imaginative touch to many of them. Whether he is writing about watermelon gelatin or sweet potato cake, Mr. Mims approaches his subject with kitchen know-how and contagious enthusiasm." –Wall Street Journal

"I found every excuse to bake from this book and share with other people. So whether you're sharing or indulging, enjoy a sweet twist on the classics." –Appetite for Books

"Sweet and Southern is 224 pages of mouth watering Southern delights, accompanied by 100 color photographs that will practically have you wanting to eat the pages. Mr. Mims has successfully modernized many of the traditional southern desserts, tweaking them a bit to cater to modern day tastes and diets that prefer lighter and less sugary treats. I highly recommend Sweet and Southern as a lovely addition to your cook book collection. Dozens of tasty recipes grace this book and I guarantee you will spend many a happy hour baking them." -Snug Harbor Bay

"Sweet & Southern takes down-home staples such as cobblers, upside-down cake, red velvet cake and cornbread pudding updating them with fresh flavors and international influences. With a background as both a food editor and a recipe developer for publications such as Saveur, Southern Living and Every Day with Rachel Ray, Mims ably mixes precision and detailed process information with history and encouragement." –AmericanCakeDecorating.com
 
"Southern desserts you should definitely be eating." –Food & Wine Magazine

"These Southern-style layer cakes and cobblers come with a side of sass...Ben Mims...editorial side shines through in the recipe tweaks and twists..." –Huffington Post

"Sweet & Southern is a gem of a cookbook…accompanied by 100 beautiful and mouth-watering photographs. While keeping true to their southern roots, Mims adds a twist to the traditionally southern recipes - modernizing old world decadence and sweetness to fit in better with today's more sophisticated lifestyle and palate. Mims makes these recipes relatable to all of us…He also has a way of gently guiding his readers, breaking down recipes into simple steps, so that even the novice and nervous baker can follow suit. Sweet & Southern is the type of cookbook that offers something for everyone. With the holidays fast approaching this gorgeous book makes a lovely gift - Or, if you can't bear to part with it, the recipes inside will delight dinner guests and holiday guests alike and make for wonderful gifts in their own right." –The Entertaining House

"Sweet & Southern is a lovely cookbook…Mims takes a really unique approach to Southern desserts (and non-Southern desserts) but really twisting many traditional recipes on their axes. I love perusing through the pages of this book and seeing comforting sweets through a whole different lens. I have bookmarked many recipes...I would also recommend this cookbook to anyone who loves to bake and is looking for some less traditional variations on some Southern favorites (as well as fun desserts in general)." –Mission: Food

"Sweet & Southern, feels more like a delicious afternoon in the kitchen with your best friend than a cookbook. Author Ben Mims grew up amid the classic dessert traditions of the Deep South and now he has reinvigorated these sweets with a fun, modern edge. This publication includes such picture-perfect favorites as hummingbird cake, lemon layer cake, and peanut butter pie. Mims also reinterprets traditional recipes with inventive twists…This book encourages home bakers everywhere to experiment with different flavors, combinations and preparation." –Arlington Advocate

"In Sweet & Southern, Ben Mims has taken classic Southern desserts and added a bit of restraint and balance, scaling back sugar by a cup or two, or adding in generous pinches of salt to cut into richness. He has honored the sweet traditions that turned him into an avid baker, but adapted the cakes and pies of his childhood to modern tastes, with a recipe tester's keen eye. These cakes and friends are not "lightened up" for any reason relating to "your middle" -- they're just made better, and more reasonable…For novices and seasoned bakers alike, Mims has valuable advice in almost every recipe; his additions never feel superfluous…these recipes feel necessary, like we've been waiting years for them…You'll walk away from the book a smarter baker, with a better understanding of technique and a few tricks in your back pocket -- such as a newfound appreciation for salt and vanilla." –Food52

"Each chapter in this cookbook contains a list of the recipes inside it. I love being able to quickly see what recipes are in a chapter... The ingredients all looked to be fairly common and available in a typical grocery store…I like that the author encourages you to experiment with different things to make these and any other desserts your own. The cookbook contains a lot of gorgeous color photos but not all recipes have a photo. This cookbook would be perfect for anyone who enjoys baking, entertaining, and of course dessert." –From Val's Kitchen
Rizzoli Universe Promotional Books, 9780789334381, 224pp.
Publication Date: March 27, 2018
About the Author
Ben Mims is an acclaimed food writer, recipe developer, and pastry chef. He has worked as associate food editor for Saveur magazine and has developed sweet recipes for Every Day with Rachael Ray and Southern Living. His March 2012 Saveur cover story, "Sweet Southern Dreams" is featured in Best Food Writing 2012.
or
Not Currently Available for Direct Purchase