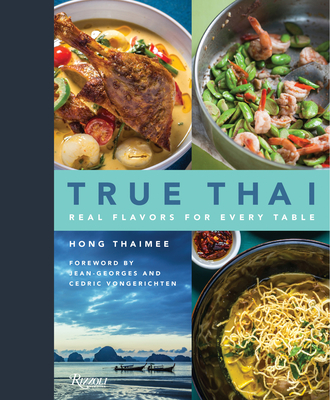 True Thai
Real Flavors for Every Table
Hardcover

* Individual store prices may vary.
Other Editions of This Title:
Hardcover (9/29/2015)
Description
Accessible and authentic, chef Hong Thaimee's first book shows readers how to bring the flavors of Thai comfort food home, sharing her favorite family dishes, classic Thai recipes, and Thai-American inspirations from her award-winning restaurant in New York City. Thai is one of the world's most popular cuisines, and chef Hong Thaimee serves the best Thai food in New York City, says The Village Voice. Now, in her first cookbook, she guides readers through the techniques and traditions of Thai comfort food, with family recipes and new takes on famous Thai dishes, including perfect Pad Thai, the Ultimate Green Curry, an Issan-style shabu-shabu party, and more.  
Hong provides a glossary of traditional Thai ingredients and staple condiments, illuminating a world of overlapping flavors both new and familiar. Armchair travelers and globe-trotting gourmands will thrill at the stunning photographs from the fields, beaches, markets, and streets of Thailand, while easy-to-follow recipes and helpful tips make this a perfect introduction to authentic, modern Thai cooking for adventurous beginners and more experienced cooks alike.    
Full of street-food snacks, fresh salads, vibrant stir-fries, savory curries, elegant seafood and rustic grilled recipes, old-school Thai classics, the most popular Thai-American dishes from her menu, and both traditional and new desserts, True Thai presents the best of Thai cuisine and culture from an expert guide.
Praise For True Thai: Real Flavors for Every Table…
"True Thai, with its thoughtful recipes and arresting photographs, brings the bright and enchanting spirit of Thailand to life. It is a feast for the eyes and the imagination—a pleasure both to read and to cook from." -James Oseland, editor-in-chief of Rodale's Organic Life and author of Cradle of Flavor
 
"I'm so happy to see a beautiful, imaginative Thai cookbook by a talented Thai-born chef and cook—it's about time! The location photos transport us to Thailand and the recipes are anchored in Hong Thaimee's knowledge of Thai home cooking and street food riches." -Naomi Duguid, author of Burma: Rivers of Flavor
 
"Hong Thaimee has become a voice for authentic, modern Thai cuisine and an influencer in the culinary industry. Without a doubt, I will soon be making one of her recipes." -Jean-Georges Vongerichten 

"True Thai is pulsating with flavor, color, and passion. The love to which this book is dedicated comes through on every page—a bold welcome to Hong Thaimee's table—TRUE THAT!" -Anita Lo, Annisa
 
"Hong Thaimee's True Thai is the Thai cookbook we've been waiting for in the United States. Chef Thaimee was a passionate competitor against me on Iron Chef America, but my favorite thing about her book is the inspiration she gets from her family to bring tantalizing flavors to your table." -Bobby Flay, author of Brunch at Bobby's

"Hong Thaimee brings humor to tales of her own childhood in Chiang Mai. As you turn the pages of her lush cookbook, you feel as though she's taking you along on a family vacation to Southern Thailand, Bangkok, and New York, and it's a privilege."
-Cookbooks365.com

"Who can resist a Thai cookbook that takes you beyond the familiar favorites at your corner restaurant, while still being more or less doable on a weeknight (especially if you live near a well-stocked Asian grocer)? I know I can't. Yes, you'll find pad Thai and yum nua in here. But mah mah instant noodles? With crab and Chinese broccoli? Candied salted chiles? Watermelon and Thai basil fruit shake? Hong Thaimee, chef at Ngam in New York, doesn't hesitate to go there, either."
-NPR BOOKS

"The recipes are very well written and ever enticing."
-THE HUFFINGTON POST 

"True Thai is one of the best Thai cookbooks on the market. . . True Thai is particularly flavorful and healthy. Once you try it, it will become part of your culinary experience." 
-THE WASHINGTON BOOK REVIEW
 
Rizzoli Universe Promotional Books, 9780789336705, 256pp.
Publication Date: March 12, 2019
About the Author
Hong Thaimee, originally from Chiang Mai, Thailand, is chef and owner of Ngam, voted 2014's number-one Thai restaurant by The Village Voice. Cedric and Jean-Georges Vongerichten are father-and-son chefs most often credited for turning Asian fusion into haute cuisine with their global network of celebrated restaurants.