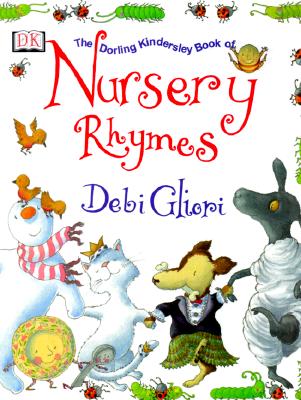 DK Book of Nursery Rhymes (Hardcover)
DK CHILDREN, 9780789466785, 64pp.
Publication Date: March 1, 2001
* Individual store prices may vary.
Description
Over fifty cherished nursery rhymes have been brought together and imaginatively illustrated by one of the most popular and highly acclaimed children's artists of today. From Little Miss Muffet and Jack and Jill to Old Mother Hubbard and Mary, Mary Quite Contrary-all the favorite rhymes, songs, and lullabies that capture the magic and joy of childhood are here. Debi Gliori brings a fresh approach to these classic rhymes, adding humor and uniting different characters in one glorious illustration, page after page. Intriguing facts about the meanings behind the rhymes are also here, giving added insight and enjoyment to both children and adults. This is a very special book to be shared for years to come.
About the Author
Debi Gliori has written and illustrated more than forty children's titles, including her very popular Mr. Bear books. One of her most recent successes was the picture book No Matter What, which has sold hundreds of thousands of copies worldwide. Debi lives in Edinburgh, Scotland, and has four children.
Praise For DK Book of Nursery Rhymes…
Winsomely illustrated and gently annotated (Kirkus ) A very jolly, pleasing collection for every child to grow up with... (Bookselling this Week) The combination of Gliori's beguiling artwork and her fascinating tidbits of information about the rhymes transforms this collection beyond the ordinary, making it a notable addition to the genre. (Kirkus ) A compilation of Mother Goose's finest, winsomely illustrated and gently annotated, Gliori's collection of more than 50 rhymes features such classics as "Yankee Doodle," "Jack Sprat," and "Peter Piper," and includes a sprinkling of less-common ditties such as "Little Tommy Tucker" and "See -Saw Margery Daw." Gliori also offers full-length versions of poems more widely known in their truncated form. "Old Mother Hubbard," reprinted with a whopping 12 stanzas, reveals more of the delightful insouciance associated with Mother Goose than the traditional six-line stanza; while Mother Hubbard traipses about acquiring food for her dog, the erstwhile pooch reads the paper, dances a jug, and smokes a pipe. The combination of Gliori's beguiling artwork and her fascinating tidbits of information about the rhymes transforms the collection beyond the ordinary, making it a notable addition to the genre. A blend of history, folklore, and factual information, Gliori's gambits are decidedly kid-friendly. Readers learn that Tom, the piper's son, did not in fact purloin a swine but stole a pastry instead. Likewise, the "Little Maid, Pretty Miad's suitor was not looking to milk the cow but marry hi sweetheart. Each two-page spread features either a single poem or a pair of loosely related rhymes accompanied by full-color illustrations that range from full-bleed to whimsically bordered pictures. The background information, cleverly worked into each spread, is set apart by a smaller typeset and a color photograph of a relevant object--offering inquisitive readers the fun of seeking out the tidbits within the larger illustrations. A captivating collection for young children. (Kirkus Reviews)
or
Not Currently Available for Direct Purchase