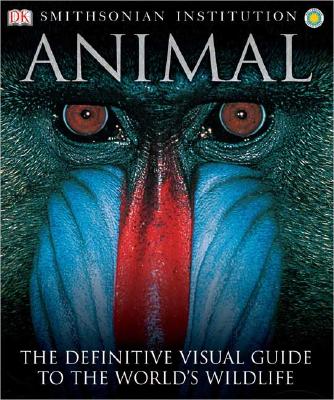 Animal
Hardcover

* Individual store prices may vary.
Other Editions of This Title:
Paperback (10/1/2005)
Description
Unrivaled in its breadth and visual impact, this unique guide sets out to illustrate, describe, and explain the incredible range of creatures that make up the animal kingdom. Exceptional Coverage. This authoritative volume starts with a clear introduction to the animal world, examining the reasons for the apparently infinite variety of animal forms and major evolutionary developments. Animal anatomy, life cycles and the principles of classification are also explored. This is followed by a superbly illustrated survey of world habitats, showing how they have adapted to each environment, and the threats that face both wildlife and plants today. The main part of the book, an up-to-date and comprehensive animal catalog, looks in detail at each major group and provides fascinating profiles of over 2,000 individual species. Visually Breathtaking. Spectacular photographic portraits bring a vast array of animals vividly to life, with special features on well-known and important animals such as the Galapagos tortoise. Each species profile is supported by maps and symbols showing distribution and habitat, as well as key information on size, population, and conservation status, forming an invaluable reference database. Outstanding Reference. Clear, comprehensive, and thought provoking, the Smithsonian Animal is essential reading for wildlife enthusiasts of all ages and levels of experience.
Praise For Animal…
This outstanding volume will have universal appeal.(Library Journal) Stunning photographs (e.g., of wolves snarling over a half-eaten meal or a falcon's perspective as it perches on a city roof) will elevate this book beyond a coffee-table or reference shelf existence. Every aspect of the book seizes attention. The first 80 pages clarify information on classification, habitats and behavior with charts, maps, photographs and illustrations. The remaining sex chapters focus on numerous specific species and subspecies, divided into broad groups: mammals, birds, reptiles, amphibians, fishes and invertebrates. Readers learn, for instance, that the curlew's long, curved beak is touch-sensitive for seeking out foot hidden in mud and sand; plovers, on the other hand, though they share the curlew's habitat, have short bills for picking up food they can see. The editors provide endangered-species information at the end of each chapter. The varying size and shape of the photographs -- some cropped cleanly around their subject, some showing the interaction of the animal with its environment -- compel the reader onward, as do the assorted full-page spreads and action sequences (e.g., of a whale breaching). Text entries are both edifying and brief. But for its heft, this book is almost impossible to put down. Forecast: With so much visual and textual stimulus for both children and adults, this title is destined to become a staple in bookstores. The beautiful cover will jump out at readers; the free Encyclopedia of Nature CD-ROM and relatively low price won't hurt, either. (Publishers Weekly, Oct 1, 2001)
DK ADULT, 9780789477644, 624pp.
Publication Date: October 1, 2001
About the Author
David Burnie studied zoology at the University of Bristol. After graduating, he worked as a nature reserve ranger and biologist, and in 1979 began a career writing and editing books on natural sciences. He has written, or contributed to, over 75 books and multimedia titles. He has also acted as a consultant and scriptwriter for a number of natural history television programs. Don E. Wilson is Senior Scientist at the National Museum of Natural History. He is on the scientific Board of Directors of Bat Conservation International, The Biodiversity Foundation for Africa, Integrated Conservation Research and The Ecotourism Society. Dr. Wilson is past-president of the American Society of Mammalogists and the Association for Tropical Biology. Editor of the Journal of Mammology for five years and of the Mammalian Species and Special Publications for three years, Dr. Wilson is the author of over 180 scientific publications. Consultant for Mammals, Juliet Clutton-Brock, Managing Editor of the Zoological Society of London's Journal and Research Associate of the Natural History Museum, London. Consultant for Birds, Dr. Francois Vuilleumier, Department of Ornithology, American Museum of Natural History. Consultant for Fish, Richard Rosenblatt, Professor of Marine Biology and Curator of Marine Vertebrates, Scripps Institution of Oceanography, University of California. Consultant for Reptiles, Chris Mattison, zoologist and writer specializing in herpetology. Fellow of the Royal Photographic Society. Consultant of Amphibians, Tim Halliday, Professor of Biology, Open University, UK. International Director of the Declining Amphibian Population Task Force. Consultant for Arthropods, Dr. George McGavin, Assistant Curator of the Hope Entomological Collections, Oxford University Museum of Natural History, Lecturer in Biology and Human Sciences, Jesus College, Oxford. Consultant for Non-Arthropod Invertebrates, Dr. Richard Barnes, Department of Zoology, University of Cambridge, and Dr. Frances Dipper, marine biologist and writer.
or
Not Currently Available for Direct Purchase