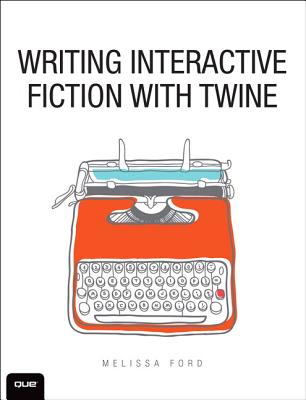 Writing Interactive Fiction with Twine (Paperback)
Que, 9780789756640, 432pp.
Publication Date: May 15, 2016
* Individual store prices may vary.
Description
Writing Interactive Fiction with Twine: Play Inside a Story
If you've ever dreamed about walking through the pages of a book, fighting dragons, or exploring planets then Twine is for you. This interactive fiction program enables you to create computer games where worlds are constructed out of words and simple scripts can allow the player to pick up or drop objects, use items collected in the game to solve puzzles, or track injury in battle by reducing hit points. If you've clicked your way through
80 Days
, trekked through the underground
Zork
kingdom, or attempted to save an astronaut with
Lifeline
, you're already familiar with interactive fiction. If not, get ready to have your imagination stretched as you learn how to direct a story path.
The best part about interactive fiction stories is that they are simple to make and can serve as a gateway into the world of coding for the nonprogrammer or new programmer.
You'll find expert advice on everything from creating vivid characters to building settings that come alive. Ford's easy writing prompts help you get started, so you'll never face a blank screen. Her "Try It Out" exercises go way beyond the basics, helping you bring personal creativity and passion to every story you create
Get familiar with the popular Twine scripting program
Learn how to design puzzles
Build your own role-playing game with stat systems
Maintain an inventory of objects
Learn game design and writing basics
Change the look of your story using CSS and HTML
Discover where you can upload your finished games and find players
About the Author
Melissa Ford is the author of numerous works of fiction and nonfiction. She has been a huge interactive fiction fan since 1982, when her dad gave her a copy of Zork to help her become a better speller. She is the blogging and social media editor at BlogHer, a contributor at GeekDad, and the Twine mentor at her local computer club. She is also the author of the award-winning blog Stirrup Queens. She earned her MFA from University of Massachusetts-Amherst.
or
Not Currently Available for Direct Purchase