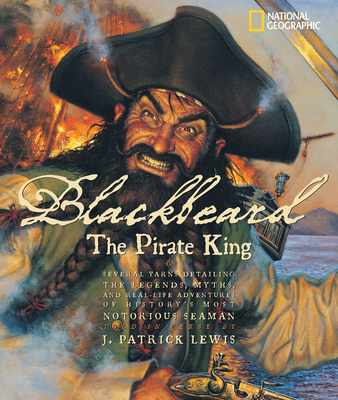 Blackbeard the Pirate King (Hardcover)
National Geographic Society, 9780792255857, 32pp.
Publication Date: May 9, 2006
* Individual store prices may vary.
or
Not Currently Available for Direct Purchase
Description
Now, the real-life adventures and the myths of the 18th century Pirate King Edward Teach have inspired a thrilling collection of biographical poems by J. Patrick Lewis--collected in a picture-book format that will quicken the pulses and fire the imaginations of young adventurers everywhere.
This dramatically illustrated book combines history, adventure, geography, and poetry in a treasure trove of rhymes about Blackbeard and his bloodthirsty seadogs. While Lewis's swashbuckling verse celebrates Blackbeard's mystique, the author's extensive historical note recovers the facts of Edward Teach's life from time-encrusted layers of legend.
The spine-tingling poetry also explores many lesser-examined realities amid the mass of mythology inspired by Blackbeard. Each of these 14 poems is written in a distinctive style as Lewis explores different aspects of the pirate's life.
Blackbeard's seaborne reign of terror also roars to life in carefully selected historical prints, dating back to the earliest known images of the Pirate King.
Blackbeard: The Pirate King is a rich chronicle of the most notorious pirate to ever scour the oceans. It's a book to be plundered and treasured by young dreamers with imagination in their blood, poetry in their bones, and a thirst for adventure on the high seas.
About the Author
J. Patrick Lewis has published 38 children's books, many of them poetry or nonsense verse. He lives in Chagrin Falls, Ohio.
Advertisement