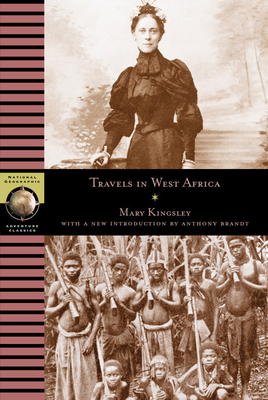 Travels in West Africa (National Geographic Adventure Classics) (Paperback)
National Geographic, 9780792266389, 384pp.
Publication Date: July 15, 2002
* Individual store prices may vary.
Description
In 1893, defying every convention of Victorian womanhood, Mary Kingsley set off alone for West Africa to collect botanical specimens. Unaccompanied except for native guides, she plunged boldly into forbidding jungles, often the first European—and almost always the first white woman—ever to arrive. Undaunted by tales of ferocious cannibals, she made friends with the tribes she met and collected priceless samples of flora and fauna. Along the way she fought off crocodiles with a paddle and hit a leopard over the head with a pot. When she fell into a trap lined with sharp sticks, she was saved by her voluminous crinolines—for she always dressed like a lady. Travels in West Africa is a book as vivid and unforgettable as the extraordinary woman herself.
 
"The charm of West Africa is a painful one: it gives you pleasure when you are out there, but when you are back here it gives you pain by calling you . . . Come back, come back, this is your home."—Mary Kingsley
 
National Geographic Adventure Classics is a series that celebrates the "100 greatest adventure books of all time," as compiled by a panel of experts for National Geographic Adventure. These titles have been carefully selected for their adrenaline quotient and their status as classics of the adventure genre.
About the Author
Mary Kingsley (1862–1900) was an English author and explorer known for her bestselling Travels in West Africa, one of two books she wrote about her time in the region. She made three trips to Africa throughout her lifetime, the final being to South Africa, where she contracted typhoid as a volunteer nurse and died during the Boer War.