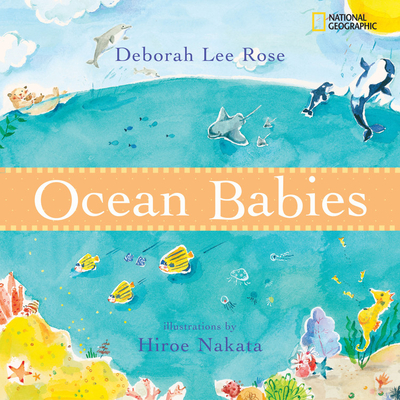 Ocean Babies (Hardcover)
National Geographic Society, 9780792266693, 32pp.
Publication Date: May 1, 2005
Description
"Big as a bus and smaller than seeds, billions of babies are born in the ocean...." This opening line and later refrain entices readers into a magical, real-life world. Through lyrical, read aloud text and light-hearted and beautiful illustration, Ocean Babies presents the animal babies of the ocean. The giant blue whale contrasts with tiny coral polyps, sea horses pop from their fathers' pouches, and bat rays spread wing fins to fly through the ocean for the first time. Did you know that sea otter pups are helpless at birth and need to learn to swim from their parents? Did you know that orca babies look exactly like their parents, while baby emperor angelfish change colors completely in adulthood? Children see an array of charmingly illustrated ocean babies with their parents and also get a gentle introduction to animal life strategies and patterns, such as migration and predation. Fascinating back matter notes on the art and text add another layer of information to the lilting main text with details on habitat, behavior, and animal strategies and life cycles.
About the Author
Deborah Lee Rose is a professional science writer and an award-winning author of children's books including The Twelve Days of Kindergarten, Into the A, B, Sea, and One Nighttime Sea. She loves to travel from her northern California home to visit the incredible ocean creatures at the world-renowned Monterey Bay Aquarium and Monterey Bay Marine Sanctuary.
Advertisement