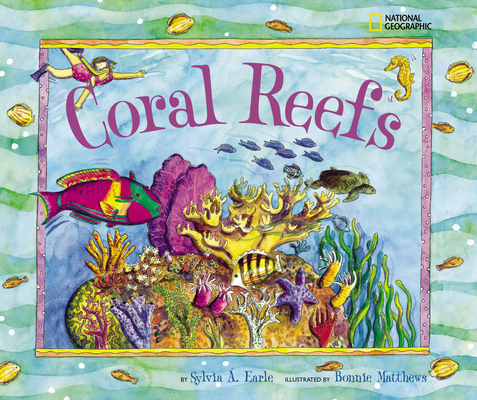 Coral Reefs: Jump Into Science (Hardcover)
Jump Into Science
National Geographic Society, 9780792269533, 32pp.
Publication Date: April 1, 2003
Description
Earle takes children on an undersea journey to explore an amazing "underwater city." She explains the formation of coral reefs and provides information about the conditions needed for survival. In addition, the author introduces other animals that live in and near the reef and stresses the importance of protecting corals from pollution. Matthews's ink-and-gouache paintings bring the colors and variety of this habitat to life. The book also includes a simple experiment that demonstrates how "filter feeders" strain food from the water.
About the Author
Sylvia A. Earle is a marine biologist, author, lecturer, and ocean explorer. She has been a National Geographic Society's Explorer-in-Residence since 1998. As part of the Sustainable Seas Expeditions launched in 1998 with Society support, Earle plans to dive in all 12 U.S. marine sanctuaries. Called "Her Deepness" by the New York Times, Sylvia Earle has a B.S. from Florida State University and a Ph.D. from Duke University, as well as numerous honorary doctorates. When not underwater, Sylvia Earle lives in Oakland, California.
Advertisement