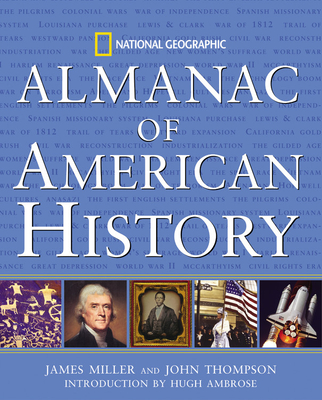 National Geographic Almanac of American History (Hardcover)
National Geographic Society, 9780792283683, 384pp.
Publication Date: December 1, 2005
* Individual store prices may vary.
or
Not Currently Available for Direct Purchase
Description
Featuring stunning images, revealing maps, historic facts, and concise analysis, the National Geographic Almanac of American History is carefully balanced to provide readers with a deeper comprehension of United States history. The Almanac is unparalleled in its reader-friendly format: the book's four major sections are enhanced by a thorough table of contents, a detailed index, and bibliography, plus a feature on how to use the book. Section 1 explores America's geologic makeup and answers the question, "How was the land responsible for the way in which America developed?" Milestones comprise section 2: Twelve essays discuss how America evolved to become the global leader it is today. Section 3 covers the major eras in America's history, beginning with the earliest Native Americans. The final section of the book covers: Leaders, Wars, Religion and Beliefs, Presidents, and finally, Milestone Documents, including the Declaration of Independence, the Emancipation Proclamation, the Gettysburg Address, and more. With an introduction by Hugh Ambrose, historian and a founding director of The National D-Day Museum, the National Geographic Almanac of American History is a timely and essential resource that every American should own.
About the Author
James Miller earned his Ph.D. in history from Indiana University. After teaching at Richard Stockton College of New Jersey, he was an editor in economics and history. He lives in Charlottesville, Virginia and is currently writing a biography of a Revolutionary War hero. John Thompson is the author of six National Geographic books, and is currently researching a book on Benedict Arnold's march to Quebec. He lives with his family in Charlottesville, Virginia. Hugh Ambrose currently serves as Historical Consultant for a miniseries about WWII being developed by Stephen Spielberg, Tom Hanks, and HBO. He is a Founding Board Member of The National D-Day Museum in New Orleans where he lives.
Advertisement