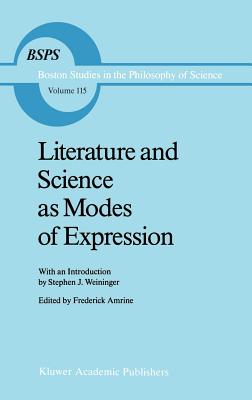 Literature and Science as Modes of Expression (NATO Asi Series. Series E #115) (Hardcover)
Springer, 9780792301332, 201pp.
Publication Date: September 30, 1989
* Individual store prices may vary.
Description
On the 25th anniversary of the founding of the Boston Studies series in 1985, Cohen, Elkana, and Wartofsky wrote in another preface such as this that the time had come for establishing institutions supporting a vision to which the series had been devoted since its inception, namely that of a more broadly conceived, interdisciplinary study of the history and philosophy of science: In recent years it has become evident that, in addition to serious and competent disciplinary work on the specifics of the History of Science, the Philosophy of Science and the Sociology of Science, there is now a growing need to develop a problem- oriented approach which no longer distinguishes between these three specialties in a cut and dried way. Since the time has come for such an approach, the institutional tools should be provided. A way to do so would be . . . to organize colloquia and to publish good papers stemming from these, without attempting to organize the papers under the separate rubrics of History of Philosophy or Sociology of Science; and moreover to consider it natural that any fundamental issue of the foundations of the sciences, or their place in a culture and the way they are institutionalized in the societal web, is still our concern, no matter whether we are a professional scientist, historian or philosopher who deals with the problem (p. vii).