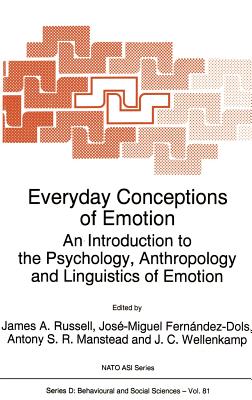 Everyday Conceptions of Emotion (Hardcover)
An Introduction to the Psychology, Anthropology and Linguistics of Emotion (NATO Science Series D: #81)
Springer, 9780792334798, 585pp.
Publication Date: May 31, 1995
Other Editions of This Title:
Paperback (12/4/2010)
* Individual store prices may vary.
Description
In Everyday Conceptions of Emotion, prominent anthropologists, linguists and psychologists come together for the first time to discuss how emotions are conceptualised by people of different cultures and ages, speaking different languages. Anger, fear, jealousy and emotion itself are concepts that are bound up with the English language, embedded in a way of thinking, acting and speaking. At the same time, the metaphors underlying such concepts are often similar across languages, and children of different cultures follow common developmental pathways. The book thus discusses the interplay of social and cultural factors that humans share in their development of an understanding of the affective side of their lives.
For researchers interested in emotion, development of concepts and language, cultural and linguistic influences on psychological processes.