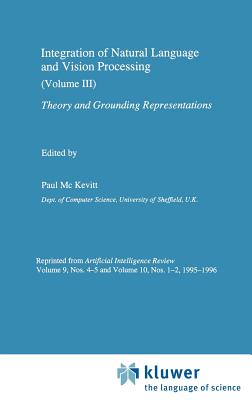 Integration of Natural Language and Vision Processing (Hardcover)
Theory and Grounding Representations Volume III
Springer, 9780792339441, 256pp.
Publication Date: June 30, 1996
Other Editions of This Title:
Paperback (2/12/2012)
Paperback (10/5/2011)
Hardcover (9/30/1996)
Paperback (10/2/2012)
Paperback (10/5/2012)
* Individual store prices may vary.
Description
Although there has been much progress in developing theories, models and systems in the areas of Natural Language Processing (NLP) and Vision Processing (VP), there has heretofore been little progress on integrating these two subareas of Artificial Intelligence (AI). This book contains a set of edited papers addressing theoretical issues and the grounding of representations in NLP and VP from philosophical and psychological points of view. The papers focus on site descriptions such as the reasoning work on space at Leeds, UK, the systems work of the ILS (Illinois, U.S.A.) and philosophical work on grounding at Torino, Italy, on Schank's earlier work on pragmatics and meaning incorporated into hypermedia teaching systems, Wilks' visions on metaphor, on experimental data for how people fuse language and vision and theories and computational models, mainly connectionist, for tackling Searle's Chinese Room Problem and Harnad's Symbol Grounding Problem. The Irish Room is introduced as a mechanism through which integration solves the Chinese Room. The U.S.A., China and the EU are well reflected, showing the fact that integration is a truly international issue. There is no doubt that all of this will be necessary for the SuperInformationHighways of the future.