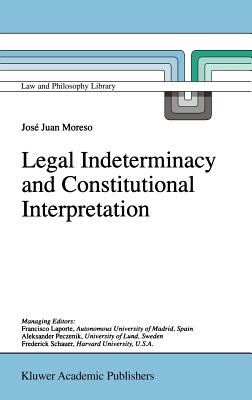 Legal Indeterminacy and Constitutional Interpretation (Law and Philosophy Library #37) (Hardcover)
Springer, 9780792351566, 202pp.
Publication Date: June 30, 1998
Other Editions of This Title:
Paperback (10/28/2010)
* Individual store prices may vary.
Description
In this book, I present the results of an investigation which began with an extended stay at Oxford's Balliol College during the first half of 1995. My visit to Oxford was made possible by a grant from the Spanish Ministerio de Educaci6n y Ciencia. My sincere thanks go to Joseph Raz who served as my supervisor in Oxford. For several points of the present study, conversations with Timothy Endicott in Oxford were also of great help. The book is part of a larger project of investigation, directed by Albert Calsami glia, which is a joint effort of a group of legal philosophers from the Universitat Pom peu Fabra (Barcelona) and the Universitat de Girona, and which also receives financial support from the Spanish Ministerio de Educaci6n y Ciencia. An earlier version of the manuscript was presented in June 1996 to the selection committee for a tenured professorship in Legal Philosophy at the Universitat de Girona. The members of the committee were Francisco Laporta, Albert Calsamiglia, Gregorio Peces-Barba, Camilo J. Cela Conde, and Francesca Puigpelat. I am grateful to all of them for their comments, which have been extremely useful in preparing the final ver sion of this book.