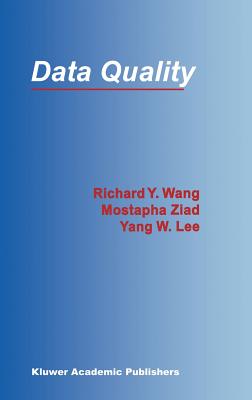 Data Quality (Advances in Database Systems #23) (Hardcover)
Springer, 9780792372158, 167pp.
Publication Date: November 30, 2000
Other Editions of This Title:
Paperback (4/7/2013)
* Individual store prices may vary.
Description
Data Quality provides an expos of research and practice in the data quality field for technically oriented readers. It is based on the research conducted at the MIT Total Data Quality Management (TDQM) program and work from other leading research institutions. This book is intended primarily for researchers, practitioners, educators and graduate students in the fields of Computer Science, Information Technology, and other interdisciplinary areas. It forms a theoretical foundation that is both rigorous and relevant for dealing with advanced issues related to data quality. Written with the goal to provide an overview of the cumulated research results from the MIT TDQM research perspective as it relates to database research, this book is an excellent introduction to Ph.D. who wish to further pursue their research in the data quality area. It is also an excellent theoretical introduction to IT professionals who wish to gain insight into theoretical results in the technically-oriented data quality area, and apply some of the key concepts to their practice.