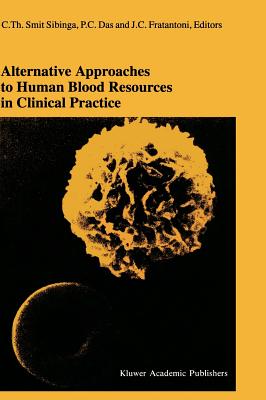 Alternative Approaches to Human Blood Resources in Clinical Practice (Hardcover)
Proceedings of the Twenty-Second International Symposium on Blood Transfusion, G (Developments in Hematology and Immunology #33)
Springer, 9780792383055, 260pp.
Publication Date: September 30, 1998
Other Editions of This Title:
Paperback (10/12/2012)
* Individual store prices may vary.
Description
Currently blood is a volatile issue. The safety of blood and the quantification of transfusion risks have been dominant themes that have stimulated the development of alternative approaches in this rapidly developing area. In clinical medicine conventional blood and its components are used in supportive therapies dependent on the choice of apparent uncritical trigger factors. A compounding factor is depth of prospective clinical trials for evidence. Such trials in critical care areas would be of enormous value, not only in recording adverse effects and under-transfusion, but also indicating the value of decision analysis and cost-effectiveness in transfusion practice. Alternative approaches include the use of cytokines, growth factors, humanised monoclonal antibodies, recombinant plasma factors, and buffy coat derived natural human interferons. These are being increasingly implemented in the clinic. Solutions for oxygen transport are being developed and fibrinogen coated microcapsules are being investigated for thrombocytopenia. In surgical patients, various crystalloid and colloid combinations are explored as volume replacements. To avoid allogeneic transfusions, beneficial blood saving methods include various strategies, such as autologous deposits, normovolemic haemodilution and various agents including aprotinin, tranecamic acid, desmopressin and erythropoietin, but their use in hospital shows considerable variations. That umbilical cord blood could be a significant source of allogeneic stem cells in related and unrelated transplantation is illustrated by the increasing number of cord blood banks in Europe and elsewhere. Future blood resources are likely to face several challenges: immediate challenges relate to increased regulatory and political oversights; intermediate solutions would offer some improvements in public health and alleviate public fear but probably not address the economic challenges thrust upon the medical care system.
As we approach the year 2000, the major concerns about transfusion medicine remain its logistics, safety and effectiveness. This theme is presented in the proceedings of the 22nd International Symposium on Blood Transfusion, developed in 21 up-to-date topics, collected and discussed in four sections.
This book will be of timely value to students, professionals and all others interested or involved in the field of transfusion medicine, whether clinical or related.