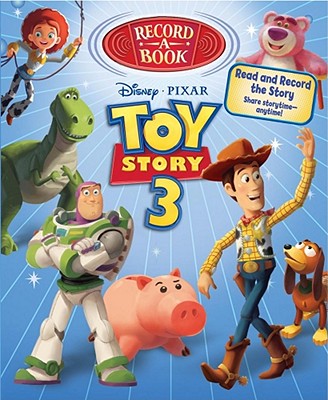 Toy Story 3 Record-A-Book (Hardcover)
Reader's Digest Association, 9780794421861, 32pp.
Publication Date: October 5, 2010
* Individual store prices may vary.
or
Not Currently Available for Direct Purchase
Description
Adults can record a retelling of Toy Story 3, and then kids can hear the story read to them as they turn the pages of the book With this unique recordable storybook, a parent can be there for that special "read-to-me" time-from anywhere When the batteries are changed, your recording will not be erased--creating a treasured keepsake. Based on the hit movie,
Toy Story 3 Record-A-Book
features Woody the cowboy, Buzz Lightyear, and the rest of the heroic toys in their greatest adventure of all. Relive the toys' journey to Sunnyside Daycare, where they meet new friends, encounter ruthless villains, and learn the true meaning of teamwork. With a simple recording device and speaker that sits in the storybook,
Toy Story 3 Record-A-Book
is so easy to use An adult can record the story, and when a child plays back the recording he can hear the story and follow along in the book. As the child grows, he can learn to record the book himself. Perfect for everyday play,
Toy Story 3 Record-a-Book
is sure to make a great gift. How to record the story on your Record-A-Book: Please read all instructions prior to starting your recording.
Move the switch on the side of the recording device to record mode.
Press and hold the button until you hear "Record One." Release button immediately.
Press, but do not hold, the button again. When you hear a beep, begin reading the text indicated with a 1, located on the inside front cover.
Press, but do not hold, the button again when you are done reading the first section. You will hear a beep. This indicates the recording has stopped.
Repeat steps 3 and 4 until all sections are recorded.
Move the switch to play mode.
If you make a mistake, please refer to the full instructions located on the inside back cover of your book.
Advertisement