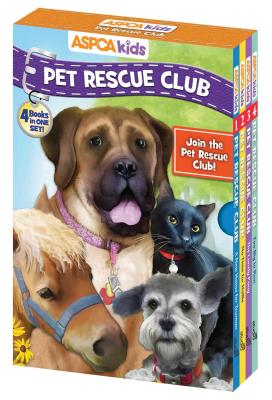 ASPCA Kids (Paperback)
Pet Rescue Club: 4 Book Boxed Set
SFI Readerlink Dist, 9780794440763, 512pp.
Publication Date: October 3, 2017
Other Editions of This Title:
Paperback (9/4/2018)
Paperback (7/21/2015)
Hardcover (1/27/2015)
Hardcover (1/27/2015)
Hardcover (7/21/2015)
* Individual store prices may vary.
Description
This boxed set includes the first four books in the Pet Rescue Club Series: A New Home for Truman, No Time for Hallie, The Lonely Pony, and Too Big to Run.

Welcome to the Pet Rescue Club! The series begins when Janey starts a blog where people can share cute pet photos and stories. She never imagined she'd receive a heartbreaking photo of a skinny, abandoned dog. She calls on her friends Lolli, Zach, and Adam to help—and that's just the start! When these animal-loving fourth graders discover how many animals need help in their suburban hometown, they can't just sit by and do nothing…

 

In this boxed set, which includes the first four volumes of the Pet Rescue Club Series, Janey, Lolli, Adam, and Zach must work together to save four unique pets: a skinny dog named Truman, an older cat named Hallie, a lonely pony, and a giant dog named Maxi. Will the Pet Rescue Club find a way to help? Read along to find out!

Read a book and help save a life: 5-7% of the purchase price of every ASPCA® (American Society for the Prevention of Cruelty to Animals) Pet Rescue Club book goes directly to the ASPCA® so they can continue their mission of helping the helpless, with a minimum donation of $50,000 through December 2019.
About the Author
Steve James was born in Midland, Texas, in 1973, the fifth of nine children. He has always enjoyed making pictures. Steve received his BFA in illustration from Brigham Young University where he studied traditional painting techniques. Since then, he has worked in the entertainment industry as an illustrator and concept artist. Steve latched on to digital art at an early age. He first used a computer tablet on the TI-99/4a in 1983 and is happy he his is not limited to eight colors today. He now finds the computer a wonderful tool for getting what is in his head out where other people can see it. Steve enjoys running around town like a crazy man and wishes his body would not break down so much. Many people believe he only runs as an excuse to fuel his shoe collecting habit and dress like a superhero. He now lives in Lehi, Utah, with his wife and crazy cat.

Dana Regan grew up in a small village in northern Wisconsin. It was very cold and snowy, so she migrated south to St. Louis to get her BFA in Illustration from Washington University. It was very hot, so she traveled west to Kansas City and made greeting cards. It was a very big company, so she set up a small studio in her home to freelance and illustrate children's books. It was just right. She is living happily ever after. But she misses the cold and snow. Dana has written 10 books and illustrated more than 85 books for children.