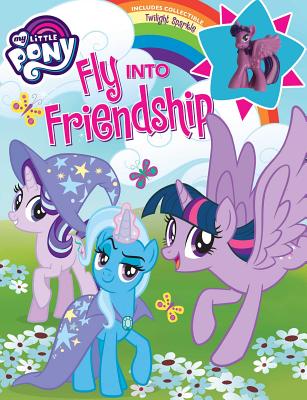 My Little Pony (Hardcover)
Fly into Friendship
SFI Readerlink Dist, 9780794441838, 32pp.
Publication Date: August 14, 2018
* Individual store prices may vary.
Description
Play with your very own Twilight Sparkle toy while you read a fun story about the complexities of friendship!

Twilight Sparkle challenges Starlight Glimmer to bring a new friend to dinner as a part of her friendship lessons. But her teaching is tested when, out of all the ponies in Ponyville, Starlight befriends Trixie! With a special edition Twilight Sparkle collectible and fun interactive activities, this storybook is the perfect addition to anypony's bookshelf.
About the Author
Courtney Acampora holds a B.A. in art history from San Diego State University and a M.A. from the University of Arizona. Currently working in publishing, Courtney's lifelong love for both art and books fused together and gave her the opportunity to write and create engaging books for kids. Courtney lives in San Diego, California.