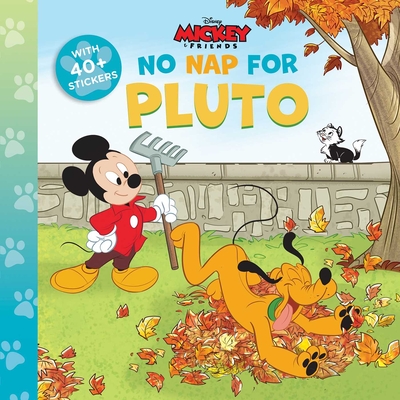 Disney Mickey
No Nap for Pluto (Disney Classic 8 x 8)
Paperback

* Individual store prices may vary.
Description
Pluto wants to help Mickey with his chores, but he's too tired to do anything right!

Mickey and Pluto have been doing chores all day, and there are still a few more to do. But it's naptime for Pluto. He's tired, but Pluto still wants to help and have fun. Unfortunately, he just makes a mess of things. Will Pluto learn that we should all stop and take a rest when we feel sleepy? Read to the end and find out. This book includes more than 40 stickers of your favorite Mickey and Friends characters.
Studio Fun International, 9780794445263, 24pp.
Publication Date: September 15, 2020
About the Author
Nancy Parent is a twenty-year veteran of Disney Publishing Worldwide, editing and writing hundreds of books for the MouseWorks and Disney Press vertical imprints as well as Disney global publishers. In addition, Nancy has written and edited for DreamWorks, Simon and Schuster, Scholastic, Reader's Digest Children's Books, Nickelodeon, Warner Brothers, Andrews & McMeel, Fox, Suzy's Zoo, and Lyrick Entertainment. Her picture book, Holly Bloom's Garden, was co-written with Sarah Ashman and published by Flashlight Press. Nancy resides in Burbank, CA. 

Massimo Asaro is a teacher in the School of Comics of Palermo, Italy. He has worked for several years on Disney properties, including stories with The Little Mermaid and The Lion King. He has also worked for DreamWorks, Mattel, Afterpress, and IDW.