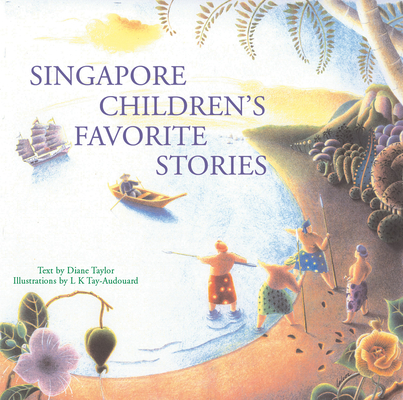 Singapore Children's Favorite Stories (Hardcover)
Periplus Editions (HK) ltd., 9780794600976, 96pp.
Publication Date: November 15, 2003
* Individual store prices may vary.
Description
This colorfully illustrated multicultural children's book presents Singaporean fairy tales and other folk stories—providing insight into a rich literary and oral culture.
Singapore Children's Favorite Stories
is a collection of eleven stories that provide an insight into the traditional culture and history of Singapore. They make perfect new additions for story time or bedtime reading. Retold by Diane Taylor for an international audience, the whimsical watercolor illustrations by Lak-Khee Tay-Audouard offer insight into Singapore's multicultural past and present, as well as its colonial roots. The famous story of the tiger under the billiard table at the Raffles Hotel is retold, as is the myth of how the name "Singapore" (Lion City) came about. Magical princesses, mermaids, tigers, pirates and buffalos compete for every child's attention.
Singapore Children's Stories include:
Queen of the Forest
Vanished!
The Pirates of Riau
The Magical Princess
The
Children's Favorite Stories
series was created to share the folktales and legends most beloved by children in the East with young readers of all backgrounds in the West. Other multicultural children's books in this series include:
Asian Children's Favorite Stories, Indian Children's Favorite Stories, Indonesian Children's Favorite Stories, Japanese Children's Favorite Stories, Filipino Favorite Children's Stories, Favorite Children's Stories from China & Tibet, Chinese Children's Favorite Stories, Korean Children's Favorite Stories, Balinese Children's Favorite Stories,
and
Vietnamese Children's Favorite Stories
.
About the Author
Diane Taylor is a teacher, writer and consultant on children's literature. She has lived in many different countries during her life so far and is currently based in the UK where she lives with her husband and two sons. Diane spent the first three years of her life living in Singapore and has more recently been back for another five years. "I wanted my children to have a flavor of Singapore's rich heritage. Finding well-illustrated Singapore legends, with language that is accessible to young children, was almost impossible, so I decided to write them myself," she says. For four years she provided the children's book reviews for the Straits Times and is currently working on her collection of children's tales.

In her drawings, Lak-Khee Tay-Audouard seeks to recapture the sense of naive innocence that we tend to lose when we all grow up. Her inspiration often comes from nature, and she is happiest working from home. Lak-Khee lives in Singapore with Denis, her French husband, Baobab and Anais, their two teen-aged children and cat, Sally.