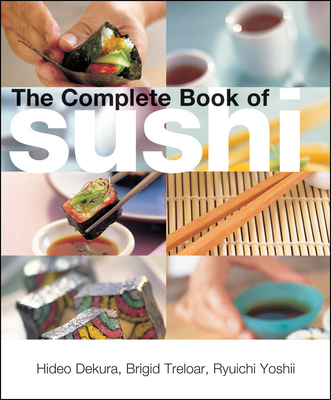 The Complete Book of Sushi (Hardcover)
Periplus Editions, 9780794603168, 240pp.
Publication Date: October 1, 2004
Description
The Complete Book of Sushi is the definitive sushi cookbook.
The Japanese say that "You eat with your eyes," and this is certainly true with sushi. An artform in Japan, sushi is not only beautifully presented but healthy and delicious. Fresh and delicious, sushi is one of the healthiest foods you can eat, as it's low in fat and high in essential vitamins and minerals. Aesthetically pleasing, sushi is also surprisingly simple to make. From traditional hand-rolled sushi to the modern sushi in a bowl, this sushi book will show you how to make these elegant dishes with ease. It also provides information on the history and benefits of sushi, as well as how to use sushi-making tools; cook perfect sushi rice; cut vegetables and decorations; and select fresh sushi fish and other ingredients.
The Complete Book of Sushi
features traditional, contemporary and innovative recipes for lovers of this Japanese cuisine. With easy-to-follow step-by-step recipes and gorgeous color photographs,
The Complete Book of Sushi
is suitable for your cookbook collection.
Delicious sushi recipes include:
Planning and preparing a sushi meal
Sushi rolls
Nigiri-sushi
Molded sushi
Hand-Rolled sushi
Vegetarian sushi
Chirashi-sushi
Wrapped sushi
Sushi rice in fried tofu bags
Sushi in a bowl
New sushi
Drinks, sauces and side dishes
About the Author
Hideo Dekura lives in Australia, where he heads a successful catering and cooking consulting company, and lectures at a culinary school. In 2007, Hideo was presented with an award from the Japanese Government for his significant contributions towards the promotion of Japanese food and cooking. He is the author of several books, including Essentially Japanese, Teppanyaki Barbecue and Japanese Cooking at Home. Brigid Treloar has been a freelance food consultant for over 20 years. She advises many companies on product and recipe development, food styling, and photography. Ryuichi Yoshii runs a restaurant in Sydney, and is well known and respected for his creative sushi and adventurous cooking style.
Praise For The Complete Book of Sushi…
"Just what we've been waiting for: a big, beautiful and practical cookbook."—Statesman Journal

"Sushi has become almost as commonplace as fast food. Little kids are eating it, teenagers love it and so do most adults"—Las Vegas Sun
Advertisement