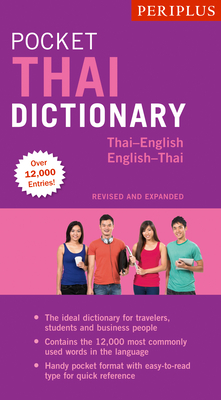 Periplus Pocket Thai Dictionary (Paperback)
Thai-English English Thai - Revised and Expanded (Fully Romanized)
Tuttle Publishing, 9780794607838, 160pp.
Publication Date: January 9, 2018
* Individual store prices may vary.
Description
This handy Thai Dictionary allows you to look up words quickly and easily--and be understood while speaking.
The Periplus Pocket Thai Dictionary
is a handy pocket-sized dictionary designed for travelers, business people and beginning Thai language students. It contains all the most common Thai vocabulary you will need. This new edition has been extensively revised and expanded to include over 12,000 entries.
Features of this Thai dictionary include:
Complete English-Thai and Thai-English sections
Headwords are printed in bold for easy reference
Alternate meanings of the same word (in English or Thai) are clearly distinguished
The latest IT, mobile phone, Internet and social media terminology
A reference guide to the essentials of Thai grammar and pronunciation are provided to ensure you will be understood when speaking.
About the Author
Jintana Rattanakhemakorn graduated from Chiang Mai University with a bachelor's degree in Thai and completed her master's degree in English at Khon Kaen University. She also holds a certificate in Teaching English as a Second Language from Seattle University College of Education. She has been teaching Thai to U.S. college students at the study abroad program in Khon Kaen, Thailand, administered by the Council on International Educational Exchange (CIEE) since 2004. As the Language Director for the program, she has developed methods, materials and lesson plans used in Thai language courses to help students become better, more confident speakers of Thai. In addition, she is the author of Easy Thai: Learn to Speak Thai Quickly and Easily.