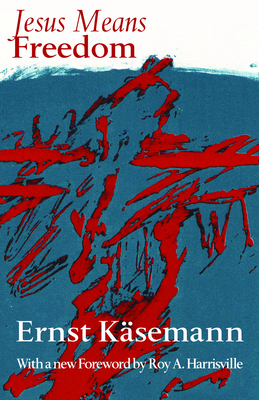 Jesus Means Freedom
Paperback

* Individual store prices may vary.
Description
Here is a book that tells it like it is regarding what it means to be a follower of Jesus Christ in today's world. It is a book that rigorously affirms the freedom of the Christian person, and just as rigorously refutes those who would restrict or negate this freedom in the name of Christian orthodoxy. The author, whose insights were shaped by the agonies of serving as a pastor during the Hitler years in Germany as well as by the discipline of years of careful research in the area of Christian origins, provides here a survey that gets to the heart of the New Testament message. He is ruthlessly honest with himself, with the New Testament, and with the church, as he strives passionately to show that Jesus means freedom - and that this has been so from the beginning.
Despite its roots in the experience of the German church in the decades following World War II, Ksemann's work has a broad and enduring relevance. The crisis with which he is concerned is not uniquely that of the German church but affects Christianity throughout the world. It is his conviction that only if the church proclaims boldly the call to freedom that was the Lord's call, and lives in that freedom, can the church remain true to its Lord and of service to humanity.
Augsburg Fortress Publishing, 9780800612351, 164pp.
Publication Date: September 5, 2000