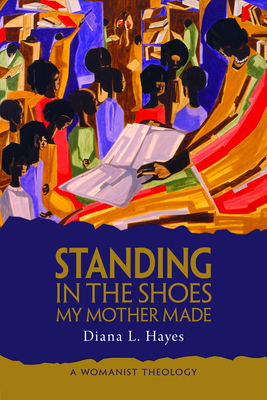 Standing in the Shoes My Mother Made
A Womanist Theology
Paperback

* Individual store prices may vary.
Description
Black women in America have carved out a distinctive and instructive faith stance that is influential well beyond the historic black church. Diana L. Hayes, a leading commentator and forger of womanist thought, especially in the black Catholic setting, here offers strong brew for what ails the church, the Christian tradition, and the world. Hayes specifically shows how womanist commitments in the Christian tradition provide a specific critical lens for seeing the strengths and weaknesses of a Christianity that has often flourished at the expense of or neglect of African Americans. As sometime strangers and sojourners in their own church, black women have a unique take on the church's stance on race, class, and gender issues. Yet their unquestioned devotion lends a hope and optimism often missing from critical thought and, as Hayes shows in this powerful volume, invites the church itself to a new conversion and role. Her book unfolds in four parts: Introduction: Standing in the Shoes My Mother Made -Part 1: Faith and Worship -Part 2: Ministry and Social Justice -Part 3: The Public Face of Faith -Part 4: A Womanist Faith Challenge Contents Adobe Acrobat Document Preface Adobe Acrobat Document Introduction Adobe Acrobat Document Chapter 1 Adobe Acrobat Document Samples require Adobe Acrobat Reader Having trouble downloading and viewing PDF samples? "In Standing in the Shoes My Mother Made, Diana Hayes combines personal reflection and commitment with theological analysis to enrich our grasp of womanism, to deepen our understanding of black Catholic experience, to widen our horizons and hearts for a more inclusive ecclesial life." -M. Shawn Copeland Associate Professor of Systematic Theology Boston College.
Fortress Press, 9780800697570, 232pp.
Publication Date: October 1, 2010