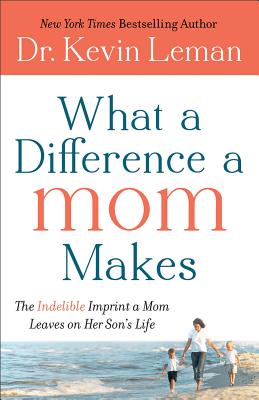 What a Difference a Mom Makes: The Indelible Imprint a Mom Leaves on Her Son's Life (Hardcover)
The Indelible Imprint a Mom Leaves on Her Son's Life
Fleming H. Revell Company, 9780800721732, 259pp.
Publication Date: September 1, 2012
* Individual store prices may vary.
or
Not Currently Available for Direct Purchase
Description
Every mom wants the best for her son. She wants him to succeed in life, to be a man of character, to find a good woman, to be a great dad. But sometimes boys are hard for moms to understand. Sometimes they're strange, annoying, and downright disgusting Yet always they need a mother who is engaged and interested in them, because a mom is the most important person in a boy's life.
In "What a Difference a Mom Makes," "New York Times" bestselling author Dr. Kevin Leman uses his wit and wisdom to show Mom how to lay the groundwork that will allow her son to grow into a good man. Armed with Dr. Leman's expert advice and insight, Mom will gain an understanding of her boy at every stage, from that very first diaper change to the moment he leaves for college. Dr. Leman shows how to discipline a boy, how to command respect, how to let him fight his own battles, how to understand his sexuality, and how to weather the changes in the mother-son relationship as he grows up. Most of all, Leman shows Mom how to lighten up and have some fun along the way with that boy who will always have her heart.
About the Author
Dr. Kevin Leman is an internationally known psychologist, humorist, and "New York Times" bestselling author of "Have a New Kid by Friday." He is the author of many books, including "The Birth Order Book," "Making Children Mind without Losing Yours," " Have a New Husband by Friday," and "Have a New Teenager by Friday." He is a former consulting psychologist for "Good Morning America" and is a frequent guest on national media, including "Fox & Friends," "Oprah," "The Early Show," and "Focus on the Family." He and his wife, Sande, live in Tucson, Arizona. They have five children and two grandchildren.
Advertisement