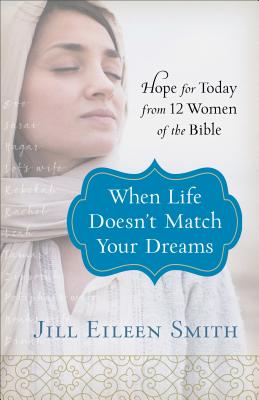 When Life Doesn't Match Your Dreams (Paperback)
Hope for Today from 12 Women of the Bible
Fleming H. Revell Company, 9780800728670, 224pp.
Publication Date: February 19, 2019
* Individual store prices may vary.
Description
Life is full of twists and turns. Relationships falter, careers fizzle, health fades. We may be faced with choices we never wanted to make or have situations pushed upon us we'd never expected. Yet, in all of it, God is at our side--even when he feels far away. Drawing on her extensive research into women of the Old Testament, novelist Jill Eileen Smith turns her pen to the lessons in trusting God that we can learn today from women like - Eve
- Noah's wife
- Sarai
- Hagar
- Lot's wife
- Rebekah
- Rachel
- and more Readers will learn from what these ancient women did right--and even what they did wrong--when faced with dashed expectations and deferred dreams. And they'll come away with the confidence that ours is a faithful God who loves us and is forming us through our trials into the women he longs for us to be.
About the Author
Jill Eileen Smith is the bestselling and award-winning author of the biblical fiction series The Wives of King David, Wives of the Patriarchs, The Loves of King Solomon, and Daughters of the Promised Land. Her research into the lives of biblical women has taken her from the Bible to Israel, and she particularly enjoys learning how women lived in Old Testament times. Jill lives with her family in southeast Michigan. Learn more at www.jilleileensmith.com.