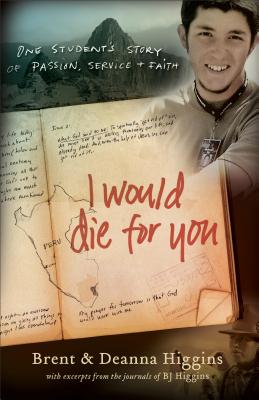 I Would Die for You: One Student's Story of Passion, Service, and Faith (Paperback)
One Student's Story of Passion, Service, and Faith
Fleming H. Revell Company, 9780800732448, 224pp.
Publication Date: January 1, 2008
Description
In a day of iPods and MySpace, when adolescents can seem self-serving and self-absorbed, the powerful story of the life of BJ Higgins proves that things can be otherwise. BJ's life was one of passionate service to God and to other people. He even inspired Bart Millard, lead singer of Mercy Me, to write and record a song to honor him. After a six-week battle with an infection contracted on the mission field, BJ's earthly life was over--he was only 15 years old.
I Would Die for You tells BJ's inspiring story. It combines the writing of parents Brent and Deanna Higgins with selections from BJ's journals, school papers, and blog, along with true stories from family members, church and hospital staff, and friends. Through this multi-layered text, youth pastors, teens, and those involved in missions work will get a glimpse of a young man who gave his life to God, lived the gospel, and died for his devotion. Stirring and full of encouragement, I Would Die for You is poised to inspire a new generation of believers to give their lives in God's service.
About the Author
Brent Higgins is an ordained minister and youth pastor. He currently serves as vice president for international operations for Awe Star Ministries, a Christian non-profit organization committed to equipping believers for life, speaking to 25,000 people each year. Deanna Higgins is an accomplished musician and elementary school music teacher. She also serves alongside her husband, leading mission trips for Awe Star Ministries. Brent and Deanna now live in Tulsa, Oklahoma.
Advertisement