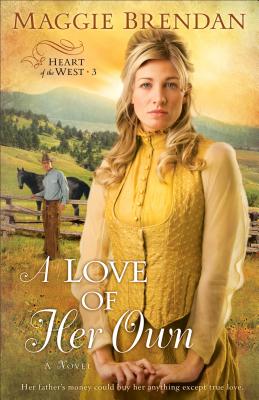 A Love of Her Own (Heart of the West #3) (Paperback)
Fleming H. Revell Company, 9780800733513, 326pp.
Publication Date: June 3, 2010
* Individual store prices may vary.
Description
April McBride has suffered a broken engagement once before and fully intends to guard her heart when she travels to Lewistown, Montana, to attend her brother's wedding. One look around the small mining town convinces April that this won't be difficult--just a bunch of dusty shops, bad service, and ill-bred cowboys. But a run-in with a horse trainer named Wes Owen opens up vast possibilities for frustration, embarrassment, friendship, and . . . love? Can April and Wes see past their differences in order to envision a future together?
Readers will love going on this adventurous, spark-filled ride through turn-of-the-century Montana.

Praise for Maggie Brendan:

"Brendan's gentle style of prairie romance is reminiscent of Janette Oke . . . capturing the heart of the old West with romance that will make you sigh."--Julie Lessman, author of the Daughters of Boston series

"Brendan blends colorful characters, lively dialogue, and intriguing historical details."--Amanda Cabot, author of Paper Roses and Scattered Petals
About the Author
Maggie Brendan is the bestselling author of several books, including the Heart of the West series and The Blue Willow Brides series. Winner of the 2013 Laurel Wreath Award, she was a 2013 finalist for the Published Maggie Award of Excellence, a 2013 finalist for the Heart of Excellence Readers' Choice Award, a 2012 finalist for Inspirational Reader's Choice award, and a recipient of the 2004 ACW Persistence Award in Atlanta. She is a member of the Author's Guild; Romance Writers of America; Faith, Hope, and Love; and Georgia Romance Writers. When she's not writing, she enjoys reading, researching for her novels, and spending time with her family. You can follow her at her website www.MaggieBrendan.com, her blog www.SouthernBelleWriter.blogspot.com, and on Facebook and Twitter @MaggieBrendan.