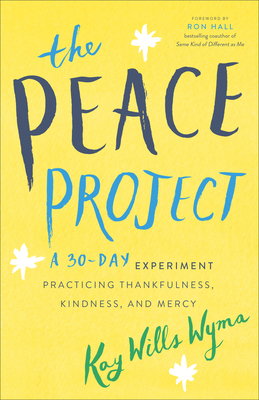 The Peace Project
A 30-Day Experiment Practicing Thankfulness, Kindness, and Mercy
Paperback

* Individual store prices may vary.
Other Editions of This Title:
Digital Audiobook (5/17/2021)
Hardcover (5/18/2021)
Compact Disc (5/18/2021)
MP3 CD (5/18/2021)
Description
Does life have you feeling unsettled, overlooked, anxious, exhausted? Good news There's a better way.

Enter The Peace Project with its short, digestible chapters full of practical application. This thirty-day experiment invites you to experience lasting personal peace through the outward practices of thankfulness, kindness, and mercy. In these hopeful pages, Kay Wills Wyma takes us along on a journey to see others--as well as ourselves--not as objects or obstacles but as people of great worth. People who matter.

The result? Transformation--for you and those around you. Experiencing the endless depths of God's peace where you can actually, finally, somehow breathe. Welcome to the less-than-perfect, sometimes hilarious, consistently magical journey of practicing thankfulness, kindness, and mercy with Kay, her kids, and some brave friends.


"Kay Wyma is a funny, honest, and encouraging guide who will walk with you toward more peace in your life one day, one step at a time."--Holley Gerth, bestselling author of The Powerful Purpose of Introverts

"Ultimately, everyone wants to be seen, to be valued, to feel like they matter. We can do that. Kay's Peace Project invites readers to see and value people through a challenge to practice thankfulness, kindness, and mercy each day for thirty days."--Leon Logothetis, global adventurer, author, and TV host of Netflix's The Kindness Diaries

"Kay shares her family's journey so openly and generously and welcomes you to the table. Grab a cup of tea or coffee and settle in as she invites you into her world in The Peace Project."--Melissa d'Arabian, Food Network Star, New York Times bestselling author of Ten Dollar Dinners and Tasting Grace

"When you change your gaze, when you choose to respond to life redemptively, your brain changes, your heart changes, and the world around you heals a little. Our world needs this message."--Susie Larson, talk radio host, national speaker, and author of Fully Alive

"From carpool with her kids to surly people at the store, Kay shares the exasperated thoughts we all have and offers hope and helpful solutions for seeing the world through a more positive lens. Want to soothe your soul? Try The Peace Project and get ready to chill out."--Melanie Dale, author of Calm the H*ck Down

"Unfortunately, I can't force others to be less rude. But thanks to Kay, I'm better equipped to control my response and find peace in any circumstance."--Heather MacFadyen, host and author of the Don't Mom Alone podcast and book.
Fleming H. Revell Company, 9780800734787, 224pp.
Publication Date: May 18, 2021
About the Author
Kay Wyma is a mom, blogger, vodcaster, and author of four books in which she has tackled, with candor and humor, some of the troubling societal issues that impact us all. Kay's writings have led her to appearances on TODAY, CNN, Hallmark's Home & Family, and more. Before staying at home with her kids, she held positions at the White House and Bank of America. She lives in Dallas, Texas, with her husband and five kids. Connect with Kay at kaywyma.com.