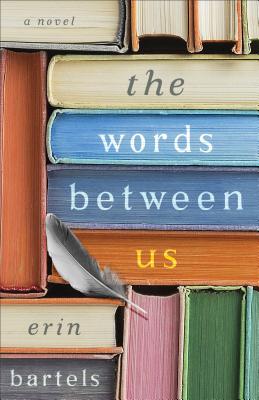 The Words Between Us
Paperback

* Individual store prices may vary.
Other Editions of This Title:
Digital Audiobook (9/2/2019)
Hardcover (9/3/2019)
Description
2020 Christy Award finalist

***

Robin Windsor has spent most of her life under an assumed name, running from her family's ignominious past. She thought she'd finally found sanctuary in her rather unremarkable used bookstore just up the street from the marina in River City, Michigan. But the store is struggling and the past is hot on her heels.

When she receives an eerily familiar book in the mail on the morning of her father's scheduled execution, Robin is thrown back to the long-lost summer she met Peter Flynt, the perfect boy who ruined everything. That book--a first edition Catcher in the Rye--is soon followed by the other books she shared with Peter nearly twenty years ago, with one arriving in the mail each day. But why would Peter be making contact after all these years? And why does she have a sinking feeling that she's about to be exposed all over again?

With evocative prose that recalls the classic novels we love, Erin Bartels pens a story that shows that words--the ones we say, the ones we read, and the ones we write--have more power than we imagine.

*****

"Alternating between flashbacks and the present day, The Words Between Us is a story of love found in the written word and love found because of the written word. It is also a novel of the consequences of those words that are left unsaid. Bartels' compelling sophomore novel (after We Hope for Better Things, 2019) will satisfy fans and new readers alike."--Booklist

"Erin Bartels drew me in with a unique premise and held me there with her strong storytelling and complex characters. . . . Bartels has given her readers a novel to read slowly and contemplate. It shows a true love for literature that all book-lovers will enjoy and a deeply rich storyline that will keep you engaged until long after the final page is closed."--Life Is Story

"The Words between Us is a story to savor and share: a lyrical novel about the power of language and the search for salvation. A secondhand bookstore owner hiding from a legacy of scandal, tragedy, and heartbreak must unlock the secrets of the past to claim her happiness. I loved every sentence, every word."--Barbara Claypole White, bestselling author of The Perfect Son and The Promise between Us

"Erin Bartels has done it again. She's created a story that has set up camp in my mind and now feels more like a memory, something I lived, than a piece of fiction. The added benefit is that it's a story about books, some of the best ones ever written. If you are the kind of person who finds meaning and life in the written word, then you'll find yourself hidden among these pages."--Shawn Smucker, author of Light from Distant Stars

"Vividly drawn and told in expertly woven dual timelines, The Words between Us is a story about a woman who has spent years trying to escape her family's scandals and the resilience she develops along the way. Erin Bartels's characters are a treat: complex, dynamic, and so lifelike I half expected them to climb straight out of the pages."--Kathleen Barber, author of Are You Sleeping
Fleming H. Revell Company, 9780800734923, 384pp.
Publication Date: September 3, 2019
About the Author
Erin Bartels is the award-winning author of All That We Carried, 2020 Christy finalist The Words between Us, and We Hope for Better Things, a 2020 Michigan Notable Book, 2020 WFWA Star Award-winner, and 2019 Christy finalist. A publishing professional for nearly twenty years, she lives in Lansing, Michigan, with her husband, Zachary, and their son. Find her online at www.erinbartels.com.