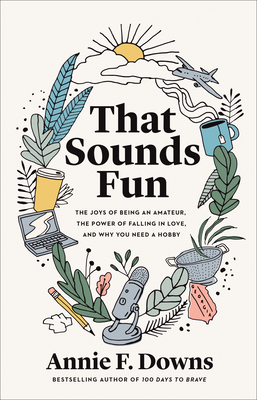 That Sounds Fun
The Joys of Being an Amateur, the Power of Falling in Love, and Why You Need a Hobby
Hardcover

* Individual store prices may vary.
Description
We know there are certain things we must have to survive--food, shelter, and safety to name a few. But there are also aspects of life that truly allow us to be joyful and fulfilled. For popular podcaster and bestselling author Annie F. Downs, fun is close to the top of that list. Few would argue that having fun doesn't enrich our lives, but so much gets in the way of prioritizing it. Tough days, busyness, and feelings that are hard to talk about keep us from the fun that's out there waiting to be found.

With That Sounds Fun, Annie offers an irresistible invitation to understand the meaning of fun, to embrace it and chase it, and to figure out what, exactly, sounds fun to you--then do it! Exploring some research and sharing some thoughts behind why fun matters, she shows you how to find, experience, and multiply your fun. With her signature storytelling style and whimsical vulnerability, Annie is the friend we all need to guide us back to staying true to ourselves and finding the fun we need.
Fleming H. Revell Company, 9780800738747, 240pp.
Publication Date: February 2, 2021
About the Author
Annie F. Downs is a bestselling author, nationally known speaker, and podcast host based in Nashville, Tennessee. Flawed but funny, she uses her words to highlight the everyday goodness of a real and present God. An author of multiple bestselling books--including Remember God, 100 Days to Brave, and Looking For Lovely--Annie loves traveling around the country speaking at conferences, churches, and events. She also hosts the popular That Sounds Fun Podcast. Annie is a huge fan of bands with banjos, confetti, her community of friends, boiled peanuts, and soccer. Read more at anniefdowns.com and follow her @anniefdowns.