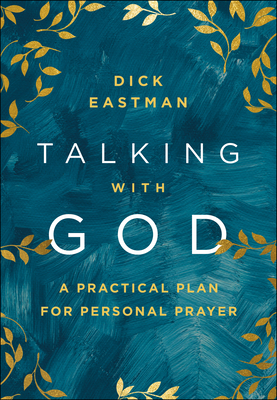 Talking with God
A Practical Plan for Personal Prayer
Hardcover

* Individual store prices may vary.
Description
Never underestimate the power of prayer. Prayer connects us to God and his heart for our needs and the needs of others nearby and around the world.

This full-color, giftable, and highly practical book will help individuals, families, and groups use the prayer plan from the bestselling The Hour That Changes the World, which has benefited more than 2 million Christians globally.

Using proven instruction on prayer, related Scripture, prayer prompts, and recommendations to put your faith into action, Talking with God invites you to saturate your family, neighborhood, and nation with nonstop, focused intercession. Empower and transform your prayer life as you recognize God's nature, wait in silent surrender, develop alertness, confess sin, pray Scripture, worship in song, ponder spiritual themes, share personal needs, receive spiritual guidance, and give thanks. You can change your world through prayer.

This is an abridged gift edition of the classic book The Hour That
Changes the World.
Chosen Books, 9780800762131, 160pp.
Publication Date: February 2, 2021
About the Author
Dick Eastman is international president of Every Home for Christ and president of America's National Prayer Committee. He is the originator of the Change the World School of Prayer, a multi-hour seminar that has trained more than 3 million Christians in 120 nations on the power and intimacy of prayer. He is the author of Love on Its Knees, Look What God Is Doing!, A Celebration of Praise, Intercessory Worship, No Easy Road, and several other books. He lives in Colorado Springs, Colorado, with his wife, Dee, and is a prayer leader respected across denominational boundaries.