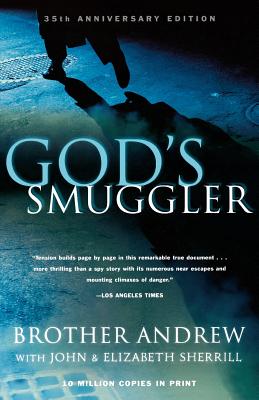 God's Smuggler (Paperback)
Chosen Books, 9780800793012, 256pp.
Publication Date: April 5, 2012
* Individual store prices may vary.
Description
As a boy he dreamed of being a spy undercover behind enemy lines. As a man he found himself undercover for God. Brother Andrew was his name and for decades his life story, recounted in "God's Smuggler, " has awed and inspired millions. The bestseller tells of the young Dutch factory worker's incredible efforts to transport Bibles across closed borders--and the miraculous ways in which God provided for him every step of the way.
Revell and Chosen now reintroduce this powerful story with two new releases: a 35th anniversary edition and "The Narrow Road, "an expanded youth edition. Both contain a new foreword and afterword. The youth edition also features information about ministry to the persecuted church today, including country profiles, quotes from Christians in underground churches, "what if" scenarios based on real-life threats they face, and stories from others who have participated in Brother Andrew's Bible-smuggling work.
Brother Andrew's story remains as inspiring today as it was thirty-five years ago, and with these new releases it will motivate a whole new generation to risk everything to follow God's call.
About the Author
Brother Andrew began his work in 1955 as a one-man mission--visiting, teaching, and taking Bibles to Christians behind the Iron Curtain. That work has since developed into Open Doors International, a nondenominational organization with bases around the world. When not traveling, Brother Andrew makes his home in the Netherlands.
or
Not Currently Available for Direct Purchase