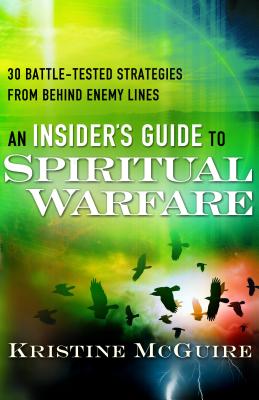 An Insider's Guide to Spiritual Warfare: 30 Battle-Tested Strategies from Behind Enemy Lines (Paperback)
30 Battle-Tested Strategies from Behind Enemy Lines
Chosen Books, 9780800796020, 235pp.
Publication Date: October 7, 2014
Description
Former Witch and Medium Reveals Satan's Strategies from behind Enemy Lines
Although we live in the physical world, our daily lives are connected--whether or not we realize it--to the spiritual battle raging around us. Having spent years as a medium, witch, and ghost hunter before being restored to her faith, Kristine McGuire has been on both sides of the battle line. Here she offers unique insight for every Christian, revealing the favorite tactics of the enemy and the deceptions behind the paranormal so popular today.
McGuire also gives 30 battle-tested strategies for victory, making this the practical go-to guide to what goes on behind enemy lines--and how to respond without fear.
About the Author
Kristine McGuire grew up in church but, as an adult, became immersed in the occult. In 2007 she renounced her occult affiliations and recommitted her life to Christ. Now, as a popular speaker and writer, she shares her unique insights with others. Her writing has been featured with Faithful Devotions, Praise & Coffee Magazine and Charisma News. She lives with her husband, Thom, in Grandville, Michigan. Visit her at www.kristinemcguire.com.
Advertisement