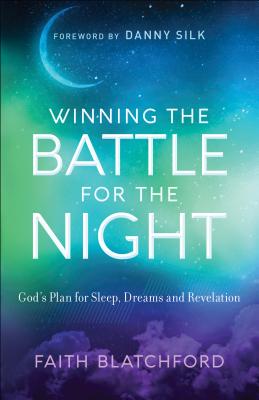 Winning the Battle for the Night (Paperback)
God's Plan for Sleep, Dreams and Revelation
Chosen Books, 9780800798185, 192pp.
Publication Date: July 4, 2017
* Individual store prices may vary.
Description
Win the Battle for Sleep: God's Plan for Rest, Rejuvenation, and Revelation

In our fast-paced world, we see sleep as "wasted time," or else we lie awake as anxiety, fear, or distractions run through our minds. That was never God's intent for the night. Without realizing it, we've handed this sacred time over to the enemy. With warmth, compassion, and keen biblical insight, counselor and speaker Faith Blatchford reveals that it's during this precious time that God imparts everything necessary for us to be equipped for the day. Without peaceful sleep at night, we are robbed mentally, physically, emotionally, and spiritually of the resources we need. God created the night and the dark--and he called it good. He dwells in it. The dark does not belong to the devil, so don't let the enemy steal it from you. Here are the tools you need to take back your night, to encounter the God of rest, and to sleep peacefully the whole night through. Includes a chapter on how to help your children overcome nightmares and fear of the dark.
About the Author
Faith Blatchford, with a B.A. in religion from Vassar College, serves as an ordained pastoral counselor at Bethel Church in Redding, California. She is also a regional facilitator-at-large of the International Bethel Sozo network. Faith spends more than half the year speaking at conferences and seminars around the world, as well as meeting with leaders to provide personal counseling and creativity coaching. Visit www.faithblatchford.com for more information.