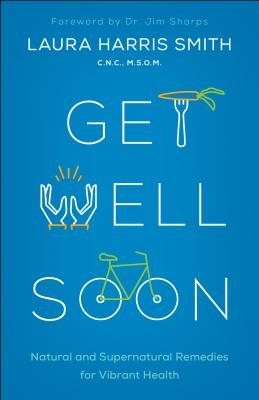 Get Well Soon (Paperback)
Natural and Supernatural Remedies for Vibrant Health
Chosen Books, 9780800799175, 304pp.
Publication Date: April 16, 2019
* Individual store prices may vary.
Description
According to the World Health Organization, there are 30,000 identified diseases. Of these, 22,500 have no known cure or effective treatment. We live in the most technologically advanced age, yet we have never been more unhealthy. Even those in good health face constant misdirection.
Leaving no stone unturned, certified nutritional counselor, copastor, and TV host Laura Harris Smith helps you pursue healing and wellness for body, mind, and spirit both naturally and supernaturally. Both are necessary for a full, abundant life, and she equips you with the tools you need for the journey, including

- condition-specific healing prayers
- powerful declarations of faith and healing
- total-body-system blessings for the prevention of sickness
- delicious tailored menus for each body system
- how to troubleshoot stubborn ailments and recognize spiritual warfare
- how to confront any spiritual sickness--such as grudges, unforgiveness, or sin patterns--that block healing
- amazing, miraculous testimonies to build faith
- alphabetized illness index linking to correlating prayers to help you recover

Whether you are ready to experience a life-changing miracle, observe the gradual improvement of a body on the mend, or maintain the good health you have, healing will come. Here is your chance to get well soon
About the Author
Laura Harris Smith is a certified nutritional counselor with an M.A. in original medicine, and host of theTHREE, a faith-based current-events talk show that focuses on body, mind and spirit health. She and her husband, Chris, founded and pastor Eastgate Creative Christian Fellowship in Nashville. With one foot in ministry and one in media, Laura and Chris live near Nashville and have six children and ten grandchildren. Learn more at www.lauraharrissmith.com.