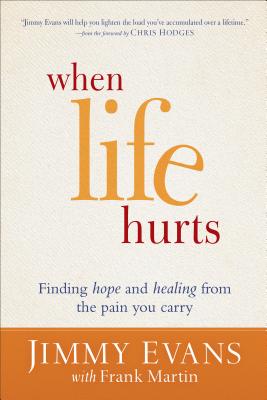 When Life Hurts (Hardcover)
Finding Hope and Healing from the Pain You Carry
Baker Books, 9780801014772, 234pp.
Publication Date: October 1, 2013
Other Editions of This Title:
Paperback (6/3/2014)
* Individual store prices may vary.
Description
We all experience emotional pain--and even devastation--in our lives, but few of us know how to deal with it properly. Our unresolved pain accumulates deep within the recesses of our hearts, in a place Jimmy Evans calls the "hurt pocket." The more pain we accumulate, the more we are mentally, emotionally, and relationally crippled. But what if we could reach into that hurt pocket, confront our pain, and experience release and freedom?
Jimmy Evans shows readers how to completely remove and resolve every negative event from their past that is compromising their present and keeping them from their God-given destiny. He helps readers forgive others and themselves and discover true inner peace.
Perfect for individuals, as well as small groups and entire churches, "When Life Hurts "will help set people free from the pain of the past so they can live fully in the present and look forward to the future.
About the Author
Jimmy Evans is the cofounder of "MarriageToday," an award-winning television program that airs nationally to more than 100 million households daily on Daystar and reaches more than 200 countries worldwide. In 1994 he and his wife, Karen, founded MarriageToday Ministries as a way to bring help and healing to hurting couples. They are the authors of the bestselling "Marriage on the Rock," and Jimmy is also the author of several other books, including "Lifelong Love Affair," "The Keys to Sexual Fulfillment in Marriage," and "7 Secrets of Successful Families." He and Karen are popular speakers whose conferences on marriage and family issues regularly draw huge crowds. They divide their time between Amarillo and Dallas, Texas. Find out more

at www.MarriageToday.com.

Frank Martin is the author or coauthor of nineteen books, including "Lifelong Love Affair," "Furious Pursuit," and "Embracing Eternity." A frequent collaborator, he has written books with such notable personalities as Nicky Cruz, Jerry Jenkins, Tim LaHaye, Dr. O. S. Hawkins, Wally Armstrong, and Dr. Robert Schuller. He has written articles for numerous magazines, including "Marriage Partnership," "Discipleship Journal," and "Pray! "and served for twenty years as a family commentary writer for Focus on the Family. He lives in Colorado Springs, Colorado, with his wife, Ruthie, and their two children. For more information, please visit www.frankmartin.net.
or
Not Currently Available for Direct Purchase