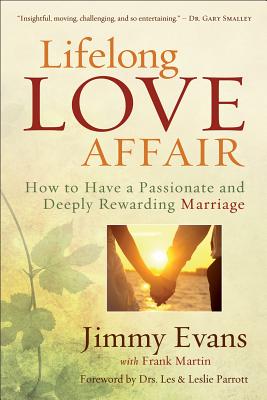 Lifelong Love Affair
How to Have a Passionate and Deeply Rewarding Marriage
Hardcover

* Individual store prices may vary.
Other Editions of This Title:
Paperback (2/3/2015)
Description
God didn't create marriage to frustrate us, test us, or to make us feel unworthy or inadequate. He created marriage to be the most fulfilling and sacred of all human covenants. It was designed to be passionate and rewarding and to meet our deepest needs and desires. And it was meant to last a lifetime. So how do you build an indestructible marriage that is filled with passion, purpose, and excitement?
In "Lifelong Love Affair, " Jimmy Evans shows couples how to embrace God's dream for their marriage, cultivate romance and fun, and fulfill each other's spiritual, emotional, and sexual needs. With more marriages today ending in divorces than ever before, and more young people cohabiting rather than getting married, the message of this book is sorely needed. Any married couple and anyone considering marriage will find "Lifelong Love Affair" an essential tool they will turn to again and again for inspiration and strength. Foreword by Drs. Les and Leslie Parrott.
Baker Books, 9780801014789, 231pp.
Publication Date: September 1, 2012
About the Author
Jimmy Evans is the cofounder of "Marriage Today," a TV program that airs three times weekly on the DayStar Television Network and reaches more than 100 million households in North America. In 1994 he and his wife, Karen, founded Marriage Today Ministries as a way to bring help and healing to hurting couples. They are the authors of the bestselling "Marriage on the Rock," and Jimmy is also the author of several other books, including "The Keys to Sexual Fulfillment" and "Seven Secrets of Successful Families." He and Karen are popular speakers whose conferences on marriage and family issues regularly draw huge crowds. They divide their time between Amarillo and Dallas, Texas. Find out more at www.MarriageToday.com.

Frank Martin is the author or coauthor of nineteen books, including "Furious Pursuit " and "Embracing Eternity." A frequent collaborator, he has written books with such notable personalities as Nicky Cruz, Bill McCartney, Dr. O. S. Hawkins, Wally Armstrong, and Dr. Robert Schuller. He has written articles for numerous magazines, including "Marriage Partnership," "Discipleship Journal," and "Pray!" and has served for the past fifteen years as a family commentary writer for Focus on the Family. He lives in Colorado Springs, Colorado, with his wife, Ruthie, and their two children. For more information, please visit www.frankmartin.net.
or
Not Currently Available for Direct Purchase