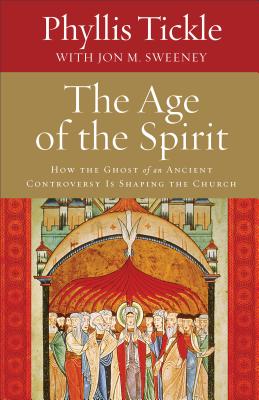 The Age of the Spirit
How the Ghost of an Ancient Controversy Is Shaping the Church
Hardcover

* Individual store prices may vary.
Description
A thousand years ago, the church experienced a time of tremendous upheaval called the Great Schism. The one faith became two churches, East and West, and the course of world history was forever changed. And it all swirled around one Latin word in the Nicene Creed, filioque, that indicated the Holy Spirit proceeded both from God the Father "and from the Son." From the time that phrase was officially instituted onward, the Holy Spirit's place in the Trinity and role in the lives of believers would be fiercely debated, with ramifications being felt through the centuries to this very day. In this fascinating book, readers will encounter not just the interesting historical realities that have shaped our faith today but also the present resurgence of interest in the Holy Spirit seen in many churches across the theological spectrum. Tickle and Sweeney make accessible and relevant the forces behind the current upheaval in the church, taking readers by the hand and leading them confidently into the Age of the Spirit.
Baker Books, 9780801014802, 184pp.
Publication Date: January 7, 2014
About the Author
Phyllis Tickle, founding editor of the religion department at Publishers Weekly, is the author of more than two dozen books on the subject, including The Great Emergence. She is frequently quoted and interviewed in such media outlets as the New York Times, USA Today, Newsweek, Time, CNN, C-SPAN, and PBS. A lector and lay eucharistic minister in the Episcopal Church, she holds the honorary degree of Doctor of Humane Letters from both Berkeley School of Divinity at Yale University and from North Park University. She makes her home on a small farm in Tennessee. For more information, go to www.phyllistickle.com or www.thegreatemergence.com.Jon M. Sweeney is the author of several books, including the remarkably timely The Pope Who Quit. He is well-known for his ability to take complicated religious history and make it accessible and fascinating to non-scholars. He is the editor-in-chief of Paraclete Press and lives in Illinois with his family.
or
Not Currently Available for Direct Purchase