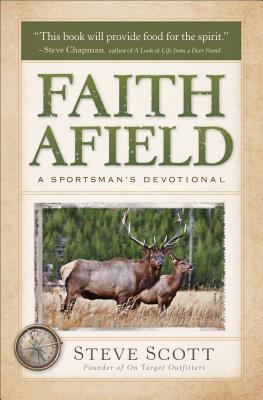 Faith Afield (Paperback)
A Sportsman's Devotional
Baker Books, 9780801015106, 190pp.
Publication Date: August 15, 2013
* Individual store prices may vary.
Description
Many men are attracted to outdoor sports because of the time it gives them alone in God's creation--time to rest, reflect, and refresh before returning to the everyday stresses of work, family life, finances, and more. Faith Afield is their guide to making this time in God's country last when they return home.

This unique devotional, geared primarily toward men, uses illustrations and principles from hunting, shooting, and fishing sports, giving sportsmen new insights into truths from Scripture and challenging them in their walk with God. Each devotion leaves the outdoorsman with a specific life application on topics such as:

-the importance of authentic living
-putting on the whole armor of God
-overcoming obstacles in life
-the key to avoiding sexual temptations
-focusing on that which is most important

The perfect gift for the hunter, fisherman, or gun enthusiast, Faith Afield will challenge men as it brings them closer to God.
About the Author
Steve Scott is founder of On Target Outfitters, a youth mentoring ministry, that uses hunting and shooting sports to instill confidence, ethics, values, and faith into a young adult's life. He has a BA in Bible and theology from Moody Bible Institute, an MA in theological studies from Winebrenner Theological Seminary (Findlay, Ohio), and an MA in children and family ministry from Bethel University (St. Paul, Minnesota). Steve is also an NRA Certified Instructor for Rifle, Shotgun, and Pistol, an NASP Certified Archery Instructor, and an Ohio Hunter Education Instructor. He lives in Ohio.