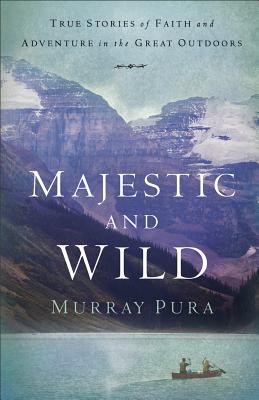 Majestic and Wild (Paperback)
True Stories of Faith and Adventure in the Great Outdoors
Baker Books, 9780801015120, 237pp.
Publication Date: April 15, 2013
* Individual store prices may vary.
Description
Church can be a great place to learn spiritual lessons, but sometimes you just have to get up and get outside to experience the grandeur of God. In Majestic and Wild, pastor, writer, and avid outdoorsman Murray Pura weaves his real-life adventures with spiritual inspiration and life lessons, capturing the majestic and wild creation that God has set before us all. From animal encounters to wildfires to raging rapids to Daniel Boone hunts and buffalo stampedes, the stories range from dramatic and suspenseful to light-hearted and whimsical. Each story is woven with spiritual lessons not easily learned from sitting in a pew.
A great gift for wives to give to their husbands and kids to give to their dads, Majestic and Wild will entertain and inspire anyone with a sense of adventure and a love for the great outdoors.
About the Author
Murray Pura was born in Winnipeg, Manitoba, Canada, and has traveled extensively throughout Canada, the United States, Europe, Asia, and the Middle East. Ordained as a Baptist minister in 1986, Pura has served five churches in Canada and headlined numerous speaking engagements in Canada and the United States. He has twelve books published, is a contributor to the "Life With God Bible," has been a finalist for The Paraclete Fiction Award, the Dartmouth Book Award, the John Spencer Hill Literary Award, and The Kobzar Literary Award of Toronto. Murray has an MDiv from Acadia University and Baptist Divinity School and a ThM and DCS from Regent College (Vancouver). He lives near Calgary, Alberta.
or
Not Currently Available for Direct Purchase