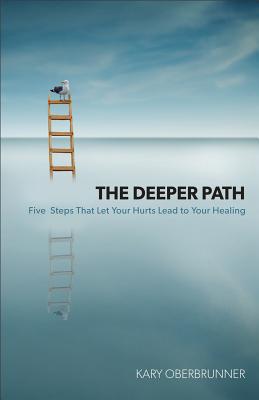 The Deeper Path (Paperback)
Five Steps That Let Your Hurts Lead to Your Healing
Baker Books, 9780801015212, 203pp.
Publication Date: February 15, 2013
Other Editions of This Title:
Paperback (10/27/2018)
Hardcover (10/27/2018)
* Individual store prices may vary.
Description
Two days of your life stand out far above the rest: the day you were born and the day you discovered why. This book is written for those who desire the answer to the second question, and this answer is only found by taking the Deeper Path.
One emotion infects us all--pain. But although pain comes naturally, dealing with it doesn't. Many cope by masking their pain, pushing it below the surface and self-medicating it with apathy, aggression, and addictions. Unfortunately, these strategies only numb our pain and our potential, creating space between us and our purpose. Although we can't escape pain, author Kary Oberbrunner believes that the path of recovery begins when we stop avoiding the ache and instead choose to explore, unmask, and understand our deepest wounds. The answer is not to rid our lives of pain, but to learn how to let our hurts lead us to healing. In this transparent book, Kary shares his own story of overcoming self-injury while integrating relatable examples from education, government, entertainment, business, and faith. With deep compassion and clarity, Kary reveals a profound model that helps the reader move toward freedom and become a soul on fire.
About the Author
Kary Oberbrunner has a burning passion--igniting souls. Through his writing, speaking, and coaching, he helps individuals and organizations clarify who they are, why they are here, and where they should invest their time and energy.

Kary struggled finding his own distinct voice and passion. As a young man, he suffered from severe stuttering, depression, and self-injury. Today a transformed man, Kary invests his time helping others achieve their true potential. He is the founder of Redeem the Day, which serves the business community, and Igniting Souls, which serves the non-profit community.

The author of several books, Kary also serves as a founding partner on the John Maxwell Team. He and his wife Kelly are blessed with three amazing children. Connect at www.KaryOberbrunner.com.
or
Not Currently Available for Direct Purchase