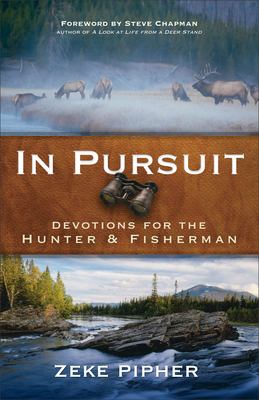 In Pursuit
Devotions for the Hunter and Fisherman
Paperback

* Individual store prices may vary.
Description
Hunters and fishermen are familiar with the "moment of truth"--that adrenaline-surging, heart-pounding instant when success and failure hang in the balance. In that moment they know if they will experience the thrill of victory or the agony of defeat. The 90 devotions in In Pursuit are written specifically for this outdoorsman. Each devotion expertly weaves scriptural truth into true hunting and fishing stories that capture the thrill of the great outdoors and work on the hearts of men who are zealous in their drive to get out on the lake or up in the deer blind. These reflections on the active life help prepare men for success and significance both spiritually and in their sport. It is the perfect gift for the outdoorsman. Foreword by Steve Chapman.
Baker Books, 9780801015861, 208pp.
Publication Date: June 3, 2014
About the Author
Zeke Pipher is the author of "Man on the Run" and is a freelance outdoor writer whose work regularly appears in several magazines, such as "Deer & Deer Hunting," "Peterson's Bowhunting," and "Bow & Arrow Hunting." He speaks on topics such as hunting strategies, the life of a sportsman, marriage, parenting, and priorities. Pipher is the senior pastor at Heartland Evangelical Free Church in Central City, Nebraska and earned his MDiv from Talbot School of Theology and his DMin from Gordon-Conwell Theological Seminary. He and his wife Jamie have thee children and live on acreage a mile from the Platte River in central Nebraska where they hike, hunt, fish, camp, and swim.